A Derm Reveals Why Meghan Markle's Favorite Body Lotion Is A Great Choice
WPA Pool/Getty Images Entertainment/Getty Images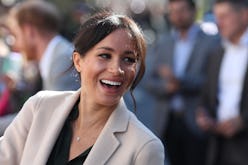 It hasn't even been 24 since Kensington Palace announced the news of Meghan Markle and Prince Harry's royal baby-to-be, but the internet is in a full-fledged tizzy. While the world's still waiting on more fresh intel to surface, let's hone in on what we do know (aside from the fact that she's already engraved a Cartier French Tank watch for her future daughter). More than likely, Markle still uses her favorite drugstore lotion... which she can still hold on to throughout her pregnancy.
In a 2016 interview with Beauty Banter, the Duchess of Sussex listed Nivea Skin Firming Hydrating Lotion as one of her can't-live-without favorites. "I use this religiously," she said. "It's honestly my favorite lotion on the market, it's so affordable, and makes my skin look and feel amazing. I would buy a case of this at a time if I could find it."
It's high praise from a figure who has access to some of the world's most luxurious goods, and it's well-deserved: some of the key ingredients include Coenzyme Q10, an antioxidant that fights free radicals (which cause aging) along with shea butter, for optimal moisture.
Audrey Kunin, M.D., a board-certified dermatologist and founder of DERMAdoctor says that the Markle-approved body moisturizer is still ideal for her her ever-expanding belly, as "firming ingredients help reduce the appearance of potential stretch marks," she notes. "When evaluating any topical used during pregnancy, the lack of any vitamin A derivative — including retinol and retinyl palmitate — as well as salicylic acid (BHAs) and related willow bark are important."
Even though the lotion firms (the brand promises that skin's elasticity is improved in as little as two weeks, with consistent use), it won't erase the effects of a beautiful pregnancy (which, truth be told, can be a good thing). "Stretch marks are the result of small tears within the dermal collagen," Dr. Kunin says. "Skin undergoes tremendous stretching during pregnancy and while these ingredients help firm the skin, they are not going to counterbalance the degree of stretching that results around the abdomen during pregnancy."
If you want to reduce the appearance of stretch marks, Dr. Kunin suggests products with vitamin C and peptides to help support collagen production, which helps keep skin firm and smooth. "Most products marketed for stretch mark prevention are little more than skin softening oils or moisturizers. Retinol is also helpful for improving the appearance of white stretch marks already present, however, it's not to be used during pregnancy," she advises.
But Markle — who really could've been a beauty editor herself if the whole acting and marrying-a-prince-thing didn't work out — likely has a few remedies up her sleeve already. Tea tree oil, which she once called "the one thing that I cannot live without when I'm traveling" in an Allure interview, is a favorite scar-fading home remedy among moms. Ahh, a royal mommy blog? One can only hope...