This New Dress Brand Will Transform Your Vacation Wardrobe
Courtesy of Coco Shop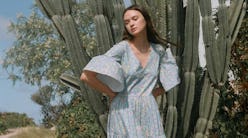 In 1949, siblings Pat Starr and Amos Morrill founded a small brand called Coco Shop on the warm beaches of Antigua. The concept was simple: breathable separates featuring hand-drawn prints that reflected the ethos of island living. Amos was an artist and drew patterns ranging from exotic flora and fauna to quaint sea life. To the dismay of local supporters, the company shuttered two years ago after 68 years in business. One such supporter was Taylor Simmons; a New Yorker who spent much of her childhood in Antigua with family. Inspired by the prints and silhouettes and determined to preserve the history of the label, Simmons decided to relaunch Coco Shop's resort-ready dresses by way of a capsule collection and new product releases three times a year.
Each garment is crafted from the same washable cotton sheeting and everything for the launch was made in New York (though Simmons will be shifting production to Antigua starting with the next release). Tapping members of the local community to dig through their closets for old Coco Shop wears and pouring over vintage photographs of her parents and grandmother on the island, Simmons has captured the history and essence of this boutique Antiguan brand while still giving it modern appeal. The silhouettes speak to the modest trend that brands like Batsheva and Doen have pioneered in recent years, and details like caging and ruffled sleeves add a touch of excitement and romance. It's basically everything you could ever want to wear on a tropical getaway — and more.
Ahead, Simmons discusses how she resurrected Coco Shop, why she never thought she'd be a designer, and more.
The Zoe Report: What does Antigua, its culture, and its people mean to you?
Taylor Simmons: "When I think of Antigua, I think of relaxing at home with my family. Home is light and bright with white walls and African fabrics. The doors and windows are always open and my parents have music playing even when no one is home. Everything revolves around family. My family has all three meals together every day. We might spice it up and have lunch with another family, but it's always multi-generational and always family-oriented. The place is really special to me in that way.
It might also be the only place I truly relax. I love traveling, but am not a laid-back traveler. I always want to make sure I see everything, try everything and go everywhere. Antigua is the only place I pick up my book every day, multiple times a day, before I pick up my phone.
Antigua's culture and people are happy. The people all seem to have a 'can do' attitude and life similarly revolves around family time and family meals. The culture has taught me to focus on what really matters and to slow down and appreciate the place around me. I hope, through Coco Shop, I can give back to the island and its people that have given me so much."
TZR: What sparked the idea for reviving the brand?
TS: "The idea was sparked through a series of separate conversations. The first was with a family friend about an experience I had at a wedding in Cartagena, an incredible city with Colombian artisans selling their bright, handmade products left and right. We didn't understand why that culture of crafts wasn't as obvious in Antigua. The second was with my father about Coco Shop. We asked each other, 'What happened to Coco Shop? Where did it go?' And the third was a follow-up conversation with my father a few months later. He had heard that Coco Shop was officially closing. All three conversations took place within a year, and got me thinking about what was possible. I started to sketch a little bit, and then started to write a business plan and eventually decided that I had to reach out to the family who owned it to learn more.
I never planned to do anything entrepreneurial, so I really took my time in deciding if this was right. The news that Coco Shop was closing felt sad, like the passing of an era. So, I decided that based on my knowledge of the island and original company, and based on my background in retail, I was the right person for the job and the company could fill a hole that I believe existed in resort-wear as well as add to the island's art scene."
TZR: How are you ensuring you are preserving the history of the brand? Did you ever meet the Coco Shop co-founders Pat or Amos?
TS: "To preserve the history of the brand, I am trying to learn as much as I can about the original company. What were the priorities of the founders? What were people wearing when they started? I've spent a lot of time going through photo albums to figure out the original company's aesthetic and while I feel like I have creative authority to create whatever silhouettes I'd like, I think remaining true to their mission of supporting Antiguan artists as well as true to the island will be the most crucial pieces in preserving the brand's history, while still moving forward at the same time.
I did meet both Pat and Amos, the two founders. Pat lived in Antigua until she passed away in 2000 and Amos helped my parents renovate their house in 1995. I don't think I understood exactly what they had created and how special it was until later, but I'm so happy to have met them. Pat's kids have been hugely helpful and supportive in this relaunch."
TZR: How would you describe the silhouettes in the collection? They feel very nostalgic but also contemporary.
TS: "Nostalgic yet contemporary is just what I was going for! I wanted everything to feel new, but like they had a meaningful past. I would describe the silhouettes as being sophisticated in their simplicity. They were designed to be simple — to make dressing and travel easy. To me, somewhere like the Caribbean is about letting your hair air-dry, skipping makeup, and feeling amazing about your outfit even though you just threw it on. Lengths are longer. Bodices are cut to hide bathing suits and sit close to — but not tight to — the body to allow for movement and air in hot temperatures.
I really wanted each piece to relate in some way to what my grandmother was wearing in Antigua in the 1950s. She wasn't wearing anything with cutouts or uneven hemlines for example. She was wearing more modest silhouettes that highlighted her waist. Young and refined."
TZR: Did you ever see yourself becoming a designer, business owner, or entrepreneur?
TS: "Never in ten million years did I think I would become a designer, business owner or entrepreneur. I took a fashion drawing class at Parsons after my sophomore year of college and distinctly remember leaving it with the conclusion that I would never design. The professor made me do my homework with my left hand (I'm a righty) because I placed too much importance on drawing perfectly straight lines than on being free and imaginative. I thought I would work on the business side of a designer that I really loved.
The most surprising part of this has been how much I am capable of figuring out if I really want to. It's easy, when you're told to do something or don't really care, to hit a road bump and think 'this is really hard' or 'I don't know how to do this' and set it aside for later. I can't set anything aside for later, so I've gotten much more creative about problem solving. The next big puzzle piece is figuring out how to sew everything in Antigua like the original company. Three years ago, I would have thought that was impossible, but now, I can't wait.
The most challenging part is that there is a lot to balance — particularly as a relaunch. I am balancing everything that comes with starting a new business, while trying my hardest to do the original company justice and make those who knew it proud — all while putting my own spin on it. I want to make so many people proud, as well as myself, and that's a lot of pressure."
Ahead, Shop the Launch Collection of Coco Shop