3 Ways To Nail The Prairie Dress Trend
Samantha Nandez/BFA/REX/Shutterstock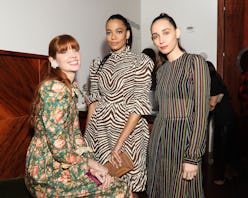 Historically, prairie dresses, and high-necked Victorian dresses were styles relegated to the trailblazing pioneer women that long came before us. But this year, the prairie dress trend has reemerged with full force, thanks in part to innovative female designers like New York City-based Batsheva Hay, who has ushered in a new era of feminine style with her reimagined take on the modest dresses women were once confined to wear.
"Not all women want to show a ton of skin and I think there is a need for women to find ways to express themselves in a modest way that is not necessarily minimal," stylist and fan of the brand Rachel Wang notes via email. "Prairie dresses with statement prints and puffy sleeves are fun and playful and less serious than other modest offerings that can feel lacking in individuality." Since Batsheva launched in 2013, women have become enamored with the brand's ruffled silhouettes, high-necked collars, and brazen use of fanciful prints.
For some, the challenge of taking a summer dress into the current season can pose a style conundrum. But, rather than instinctively gravitating towards a pair of pants once the temperatures drop, you can keep your statement dress in heavy rotation throughout the fall. For insight on how to transition summer's biggest trend for chillier weather, Hay shares her own suggestions for adapting this of-the-moment dress.
Below are three outfits to consider when the desire hits to embrace a romantic antique-inspired aesthetic. Hay recommends not to be thrown off by the idea of wearing a statement dress during the fall, and suggests embracing the bold look with doses of color and experimenting by adding cold-weather staples and timeless classics to the mix. By introducing key layered pieces like chunky knits, incorporating rich textures, and mixing in a variety of interchangeable accessories, Hay believes you can keep the look going strong the entire year.
Add A Chunky Knit In A Bright Hue And Sporty Sneakers
"The [Victorian] dress, especially in a printed [motif] always looks best layered, especially when worn with a chunky sweater in a bright color," Hay says. "I like to wear my dress with a thick knit, throw on a belt, and wear it with sneakers."
Stand Out In Colored Tights And A Corduroy Jacket
"One of my favorite ways to wear the dress is with a great pair of tights, and I also like mixing in corduroy," Hay says. Cornflower blue tights add a nice pop of color against a white Victorian-inspired dress and a darkly-toned corduroy jacket. Fresh accessories like snakeskin boots and statement earrings are options you can also continue to wear all season long.
A Classic Camel Coat and Edgy Black Boots Offer A Sleek Approach
"I love to wear [my dress] with a classic camel coat, and I also always like to add a pair of my favorite black boots," says Hay. If you're print shy, one way to offset it is by pairing the dress with a classic camel coat, and edgy boots with unexpected buckle detailing make this look also appropriate for the boardroom.