What 3 Fashion Insiders Wear On A Tropical Vacation
Courtesy of MATCHESFASHION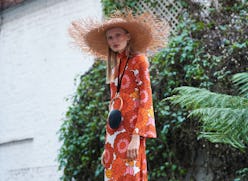 Ok, so winter isn't your thing. That's fair. If you're they type that come November 1st, you're already figuring out how to flee the cold, then right now, deciding where to go and what to wear on a tropical vacation is likely an all-consuming thought. No matter if you settle on the white sand beaches of the Caribbean, the lush mountains of Hawaii, or foodie-chic culture of trendy Tulum, packing for your getaway always starts with a few key pieces: swimwear, coverups, and sandals.
But before you automatically throw in your same-old selection of beachy essentials, with a new year on the horizon, it's time for a little vacation outfit refresh. This resort season ushers in warm-weather essentials with heavy seventies inspiration, which means a lot of glamour, a little bit of shine, and a whimsical dose of Woodstock-y wanderlust. Think: sundresses that transition from the beach to dinner, high-waist bikinis with a retro feel, show-stopping maillots, and fanciful jewelry that gives even the most minimal of sun-worshiping looks a glamorous finish.
To help get you excited to leave the dreary cold behind, below three fashion industry experts will clue you in on the key pieces to pack on a tropical vacation plus how to style them. Now start drafting that out of office message!
A Megawatt Maillot
For a holiday getaway, think beyond simple one-piece swimsuits and dial it up with unique design. Celenie Seidel, market editor at Farfetch is in favor of bringing the festive vibes to the beach with metallic-flecked and lurex styles. "A tropical vacation is best when centered around a rotation of great swimsuits," she says. "For those of us who tend to wear a lot of black it's a nice opportunity to break out some color." For the minimalist, a ribbed or knotted one-piece is perfectly on trend while feeling a little more luxe.
If you're a color or print fanatic, Laure Heriard Dubreuil, chief operating officer and founder of The Webster, recommends destination-inspired motifs. "My collections for LHD are inspired by travel destinations, offering an array of bold and playful colored prints that make packing for vacation quite easy," she says.
A '70s-Inspired Coverup
The newest resort collections all have one thing in common: a decidedly retro tone. In the coverup department, Natalie Kingham, fashion and buying director at MATCHESFASHION, is for '70's-inspired silhouettes and crochet fabrics, while Heriard Dubreuil suggests flowy shapes with sleek sandals — all of which are easy looks for beach days, poolside R&R, or sunny city walks. When styling a kaftan or tunic dress, Kingham says "underneath I would wear a Matteau high-waisted bikini and you can pair them with a Montunas bag and Ancient Greek Sandal for any tropical adventure."
An Artisanal Bag
Whether it be straw, macramé, or raffia, an artisanal bag instantly sets a tropical tone. "I always take one bag that works for all occasions, like a straw basket bag that I can wear during the day and take out at night," says Kingham. For a city-sleek take, Heriard Dubreuil recommends a lunchpail silhouette. Or, try a shoulder or belt bag in natural-looking materials. Both feel at once sophisticated and relaxed.
Simple (But Luxe) Sandals
To save on suitcase space, it's best to pack one or two pairs of wear-anywhere sandals and all three experts agree that minimal-luxe styles are the most versatile and comfortable. "When packing for a tropical holiday, I always pack with two things in mind: style and comfort," says Heriard Dubreuil, who adds that Rondini sandals are always her go-to.
Whether you're sunbathing in the sand or setting sail for dinner, Kingham relies on a simple formula, utilizing luxe sandals to elevate her favorite casual pieces. "Sticking to a clear aesthetic like tan sandals, white cover ups, and basket bags makes your vacation packing easy but provides a super-chic look during the day," she says.
So-Cool Sunglasses
A sunny getaway always calls for stylish sunglasses and Seidel recommends designer versions from brands like Celine, Gucci, and Dior, which instantly elevate everything from swimwear to sundresses. (A vintage pair, or a modern style from a contemporary brand is always a good choice, too.)
An Easy Evening Dress
A warm-weather vacation is all about easy vibes, and for evening cocktails or dinner, Kingham recommends a tonal outfit such as a tan maxi dress with luxe sandals and a woven bag. For a little more impact, try a silk maxi dress with fashion-forward sandals or flatforms. Or, if you're craving color and print, tropical motifs in lightweight fabrics are tropical to a T.
A High-Waist Bikini
On days when a one-piece won't do, a high-waist bikini is a must-try silhouette. Perfectly in line with the retro tone of resort, Kingham says it's most crucial to find a style that fits you well and is comfortable on your body, rather than jumping for anything too trendy.
A Wide-Brim Hat
A sunhat is essential for your escape to warmer climates, especially one with fashion-forward details. For a little drama, Kingham likes an oversized raffia style or one with a grosgrain ribbon band while Heriard Dubreuil's top pick is a tall boater silhouette from Marysia and Lola Hats recent collaboration.
Colorful Statement Earrings
Colorful statement earrings are transformative, especially when your outfits skew more simple. "Adding accessories like a statement earrings can elevate just about any look," says Heriard Dubreuil, who's top pick is a beaded drop earring from her collaboration with Aurelie Bidermann.
A Tropical Shirt
"This past summer I found it quite refreshing to ditch dresses for masculine holiday shirts (think aloha) and Prada nylon short shorts," says Seidel. "Combined with slides and a selection of subtle fine jewelry, it's an easy, low-maintenance daytime wardrobe." Once you're back from vacation, a tropical button-down is too-cool tucked into rigid denim (with a fitted turtleneck underneath if you're returning to cold weather).
Fine Gold Jewelry
For instant glam, nothing sets off simple vacation essentials like fine gold jewelry. If you're one to invest in your jewels, Ceidel notes that precious metals are better at withstanding salty activities.