Marianna Hewitt's New Living Room Is A Mid-Century Modern Dream
Lauren Pressey; Homepolish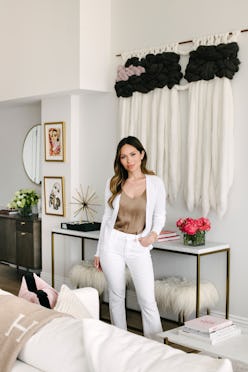 Nothing is quite as exhilarating (or as stressful) as redecorating, especially when you're starting from scratch. With the endless possibilities and Pinterest inspiration also comes some healthy fear of things going south. What if you pick the wrong color scheme? What if you end up with a couch that doesn't work with the rest of your aesthetic? Lifestyle influencer Marianna Hewitt's latest home decor venture put her face-to-face with this very situation.
In moving into a brand-new home this year, the Life With Me blogger realized not everything from her previous home, particularly her living room, translated to her new place. "My previous space featured the bright, vibrant colors and elements I typically gravitate towards, however, the layout was not ideal for the social space I was hoping to create," says Hewitt. "In the redesign, we focused on enhancing the pieces I already had and spoke to my design aesthetic — such as the couch — as well as adding more eye-catching accessories to make the layout more cohesive."
To help her get a fresh start, Hewitt enlisted the expertise of Homepolish, the interior design company that actually helped her on her previous home. This time around, Hewitt's aim was to create a light, airy living room that she could entertain in and that reflected her current personal style. Homepolish interior designer, Katherine Carter, was up for the challenge. "If you've ever experienced writer's block you know the best way to get past that is to just start writing and the rest will flow," says Carter. "It's the same with designing a blank canvas. Just start with anything, whether it be a piece of art you love or a rug or sofa, and build off of that one piece, and it will all look fabulous and come together."
The Zoe Report recently caught up with Hewitt and Carter to get a snapshot of the influencer's home decor journey, as well as her insights for someone in the midst of their own design project. Check out her three key tips for those looking to give their living room a little makeover.
Tip #1: Never Underestimate The Power Of Accessories
Because she spends so much time in her living room, Hewitt said she wanted to make sure her new one was a light and bright sanctuary for visitors. "I had furniture from my previous space that didn't fit the layout of my new living area, so I wanted something that felt more open with a few small updates," says Hewitt. "Accessories can make all the difference."
These accessories can come in the form of an accent chair, chandelier, throw pillows, or all of the above. Whatever items you choose to light up your space, make sure they do their job in catching the eye as soon as you walk into the room (via color, pattern, shape, etc.). For Hewitt, these favored accessories include, "The knit hanging over my marble console, my couch, and the shelves above my desk."
Tip #2: Let Your Home Decor Be An Extension Of Your Personal Style
Your home decor and personal living spaces in general, should always feel like you. To ensure this, incorporate your favorite colors, textures, and artwork so everything in the room cohesively reflects where you are stylistically.
"I've always had the same home aesthetic and it's an extension of the clothes I wear," says Hewitt. "The colors I love and the fabrics I gravitate towards. Over the years, it's just become more feminine than girly, still embracing blushes, but with more muted tones and elevated accessories."
If you're not sure how to go about translating your personal style to your home or living room, Carter says tried-and-true platform Pinterest is a great place to start. "Pinterest is always a crowd pleaser and so fun to navigate through," says Carter. "You will come across a lot of inspiration there." Just create a board and pin any and all living room imagery that catches your eye. From there, pick and choose the key pieces or elements that make sense emulating in your own space.
Tip #3: Choose An Investment Piece
Every room should have one or two key pieces that serve as the dominant elements in your space. "Focus on one big piece you want to invest in — for me it was a couch," says Hewitt. "It's the biggest item you see and the most used piece of furniture I have in my living room. It needed to be functional, but also beautiful to look at."
The influencer explains that, in her home, the couch is the water cooler for friends and visitors — the centerpiece everyone gathers around for connection. "I love to have my friends over, so a sectional couch that we could all sit on was really important to me because not only is it the focal piece of the room, but it's also the most used item I have," she says. "I previously had the same couch but it made the room closed off — so we redesigned it and mirrored the sections to give the living room a more open feeling."
Carter also recommends considering art as an investment piece to bring some life and movement to your living room. "You should only hang positive happy art," says the designer, who adds, "From a Feng Shui perspective, you should avoid hanging any mirrors unless they reflect a beautiful view from the outdoors."