Margot Robbie Just Gave These $100 Yoga Pants Her Stamp Of Approval
James D. Morgan/Getty Images Entertainment/Getty Images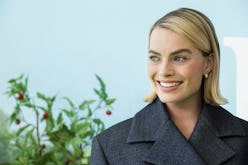 Margot Robbie is a dressing master on and off the red carpet. She rocks even the most over-the-top dresses with panache, never fails to offer up cool, new ways to wear everyday wardrobe staples, and now, she's succeeded in finding the most perfect workout bottoms around — a pair that manages to be both comfortable and stylish. That's right, Margot Robbie's yoga pants are so cute, they might actually motivate you to hit the gym once and for all.
Clearly, the busy awards season (or dreary L.A. weather) isn't going to stop Robbie from penciling in some time at the gym. On Feb. 3, the 28 year old was photographed on her way to the fitness center, but based on her trendy outfit, she could just have easily been running errands or grabbing brunch with friends. In other words, she just debuted the ultimate athleisure look that you can wear all hours of the day.
The actor's sporty getup consisted of a basic tee and a cropped, gray zip-up hoodie with accessible front pockets (perfect for holding your day-to-day essentials). She accessorized with chunky, white Adidas sneakers and a large, black Chanel hobo bag that proved to be a great alternative to the oftentimes cumbersome gym totes. The real MVP, however, was her high-waisted, sage-green tights from Casall, a Swedish-based brand that fuses fashion and function.
Robbie's workout leggings are simplistic in design, which is part of the reason they're so covetable (and versatile, too). Combine that with the fact that they're made from conscious, recycled yarn that's super soft and they cost a reasonable $100, and they become nearly impossible to pass up.
Though the actor's sage-green version is currently sold out, the seamless workout tights are still available in a handful of other pretty hues, including a light lavender, a warm beige, and an easy, dark gray. It'd be wise to act sooner rather than later, because the other colors are flying off the racks.
Below, shop Robbie's Casall workout tights, as well as The Zoe Report's roundup of trendy yet practical leggings to add to your gym lineup ASAP.
Shop The Look