MALIN+GOETZ's Newest Perfume Is Like The Perfect Fall Day In Fragrance Form
Courtesy of MALIN+GOETZ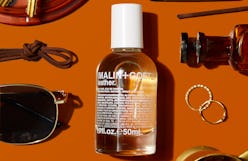 A good fall scent is hard to find. Spring dominates florals, summer has citrus and the beach, and winter is ruled by cedar (and the occasional holiday-inspired baked good). So, what's autumn to do? According to MALIN+GOETZ's new Leather Eau de Parfum, it's time to look to something completely new for fall 2019. Or, rather, so classic it's now new.
"Everyone remembers their first leather jacket. I picked mine up from a thrift shop in Greenwich Village when I was still in high school in the 1970's. I'll never forget that supple and buttery texture, the soft worn-in comfort — and the instant confidence and assurance of being instantly cool when I slipped it on," reads a quote by MALIN+GOETZ's Andrew Goetz in a press email. "It felt great. It looked great. And boy did it smell amazing. While I still remember what it looked like — it's the scent that is forever etched in to my mind. There is something about the power of leather that consumes our olfactory attention, demanding that we surrender to its seductive powers."
Unveiled on the @malinandgoetz Instagram account Aug. 1 — just in time for the beginning of transitional-weather dressing — the new perfume retails at $95, and is available on MALIN+GOETZ's website. Like MALIN+GOETZ's other fragrances, the Leather perfume is unisex, packaged in a sleek, minimalist bottle that would look perfectly at home on anyone's vanity regardless of their gender.
But what goes into creating an exclusively leather-inspired perfume, you wonder? Well, a few scents borrowed from other seasons. The universally cool-weathered cedarwood comprises the perfume's base note, joining in with an earthy sandalwood and a pure leather smell. The middle is a spray of florals: muguet, orchid, and green violet. Finally, at the very top sits a lotus flower note, married with a spicy pepper and clove scent.
When put together, the layered, autumnal fragrance may just be the nostalgic perfume you reach for all year long. "It's warm, it's intimate, it's like sinking in to a soft patina leather sofa," continued Goetz on the MALIN+GOETZ website.
Below, MALIN+GOETZ's new Leather Eau de Parfum.