How A Top Dermatologist Would Spend $100 On Beauty Products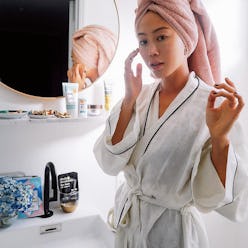 People in the beauty industry get tons of goods to test out, so when someone spends their own money on something that they've run out of, you know it's good. In this series, we give beauty buffs $100 and ask them how they'd spend it on the best-of-the-best cosmetics from around the internet.
Whether she's treating a blemish with cortisone or conducting basal cell carcinoma surgery—aka removing a common form of skin cancer—Mona Gohara, MD, a dermatologist in Danbury, Connecticut, does it in a badass #OOTD.
She's a vitamin C–loving SPF aficionado who treats patients at her practice and teaches skin health as an associate clinical professor at Yale University's Department of Dermatology. Despite her daily fight to "kick cancer's ass," she still makes time to hang out with her two sons, all while keeping her shoe game on point.
Take a scroll through her Instagram and you'll see that Dr. Gohara doesn't skimp on the good stuff (her belt collection alone totals more than the pennies in my savings account). So, knowing her good taste and knowledge of all things skincare, it made me wonder what beauty products she buys and uses on herself.
I put Dr. Gohara on a spending spree to see what skin-loving items she would purchase with a $100 budget (to be fair: the total actually rang up to $102, but I found a $2 off coupon on Walgreen's website that's good for the month of December, so it really all evens out in the end). Because when it comes to skincare, my motto is: Do as derms do.
First Aid Beauty Hello FAB Ginger & Turmeric Vitamin C Jelly Mask, $32
"I like to mask in the morning, so I'll brush my teeth and dry my hair while it's on to save time," Dr. Gohara explains. "I'm excited about this one because I haven't seen many vitamin C masks out there, and I'm a huge fan of the antioxidant. When it's infused into the skin, it wards off signs of ultraviolet light, making your complexion glowy, even-toned and radiant."
Related: How To Know If You're Exfoliating *Too* Much
Dove Deep Moisture Nourishing Body Wash With NutriumMoisture, $5
"This body wash deposits moisture deep into the skin and replaces crucial lipids that you naturally lose in the shower," Dr. Gohara says.
Related: I Tried At-Home Exercises To Improve My Posture—Here's What Happened
IT Cosmetics Your Skin But Better CC + Airbrush Perfecting Powder With SPF 50+, $35
"SPF is crucial, regardless of skin type or skin tone," Dr. Gohara explains. "I like powder formulas because you can reapply them throughout the day—and I'm all for easy application. Plus, it color-corrects and functions as a CC cream, so it's a great multitasker!"
Related: These Fitness Fashion Stories *Dominated* Well+Good In 2017
Drunk Elephant Lippe Balm, $18
"I use this balm year-round, but I really slather it on when it's cold outside," she says. "Harsh winter air is particularly rough against your lips, so infusing them with hydration and moisture is key. The bonus: It doubles as a great, neutral lip gloss."
Tarte Tartiest Pro Cruelty-Free Eyelashes In Little Black Dress, $12
"Aside from being cruelty-free—which I love—they are much gentler on the eyelid than other lashes I've tried," Dr. Gohara says. "They're even comfortable enough to wear on a regular basis and not just for special occasions!"
To view the original story, visit Well + Good.