M-61's Powerful New Face Cream Is Here To Banish Dull Winter Skin For Good
Courtesy of M-61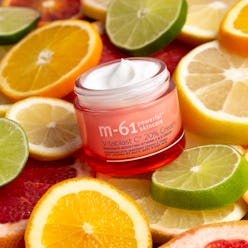 At one point or another, and especially during the drying winter months, dull skin is practically inevitable — even for me, and I live in Los Angeles (where sunshine is the norm and temperatures rarely dip below 70 degrees). So, a skincare routine that's carefully crafted to combat the frustrating complexion concern is a must; and that more than likely means a major dose of proven brightening super-ingredient, vitamin C. But not every vitamin C product is created equal, and M-61's new Vitablast C 20% Cream is proof. Trust me, I've tried it.
Frankly, I wasn't the biggest proponent of the popular vitamin before trying M-61's latest launch. I'd previously tried serums infused with the stuff to no avail, as I didn't feel like they provided any additional glow. But it turns out there's much more to getting a good dose of vitamin C than slathering on any old varietal. In fact, it took M-61's founder, Marla Beck, almost two years to get it right with the new cream.
"When I was formulating this advanced cream, we looked at different forms of vitamin C. We chose a form of vitamin C, tetrahexyldecyl ascrobate, which is shown to have superior skin absorption compared to other brightening ingredients," Beck tells The Zoe Report in an email. "It was also important that the vitamin C be stabilized so the benefits of the ingredient don't degrade over time after opening and throughout use."
That's not the only thing that makes the Vitablast C 20% Cream, $92, stand out in a sea of brightening products. The rich face cream, which joins the rest of the Vitablast range at Bluemercury beginning Jan. 15, includes a whopping 20 percent of the vitamin (double that of its high-powered face oil counterpart), making it one of the few available products to pack that big of a punch. And the benefits are equally huge.
"With 20% stabilized vitamin C, the cream helps to support naturally-recurring collagen production, promote a more even skin tone, diminish the look of age and dark spots, along with protecting against environmental stressors for an ultra-hydrated glow," Beck tells TZR.
More brightening ingredients are added to the mix, including gallic acid, vitamin B3, and licorice to boost glow and aid in reducing discoloration. Meanwhile, vitamin E and sea buckthorn bring hydration, and a superfood cocktail of apple, watermelon rind, and lentil acts like a magnet to bind water to the skin for maximum moisture retention.
Beck suggests using the cream at night — though I've found it absorbs rapidly enough for daytime wear, too — so the evening after I received it I smoothed a generous amount of the buttery cream across my face and neck before crawling in bed, eagerly awaiting morning. And sure enough I woke up to really glowy skin. Even the chapped, red patches around my nose (thank you, head cold) were no more; instead I saw soothed, smooth, and dewy skin. That alone was enough to convert me, although it's safe to say I can get behind the complexion-toning results I'm starting to see, too.
Want to really maximize your benefits? Beck says the key is pairing the cream with a good exfoliator, and layering some additional glow-getters for increase luminosity. "I first start with our PowerGlow Peel pads to exfoliate, resurface and clarify my skin. Then for an extra boost of radiance and glow, I'll layer Vitablast C® Serum 2.0 under the Vitablast C 20%® Cream," Beck says, "For those with dry or sensitive skin, I recommend to include an added layer or hydration with our M-61 Hydraboost Serum Pads or Hydraboost 2.0 serum, designed to amplify the skin's natural hyaluronic acid levels and bind moisture to the skin."
Winter's only just started, so add M-61's new ultra-powerful cream to your arsenal starting Jan. 15.