The Tie-Dye Trend Will Only Get Stronger For Fall & Lucy Hale's T-Shirt Is Proof
Dia Dipasupil/Getty Images Entertainment/Getty Images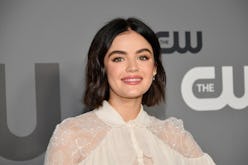 In case you thought tie-dye mania was slowing down, Lucy Hale's tie-dye t-shirt just confirmed that the whimsical trend is still going strong. The Pretty Little Liars star was spotted out in Los Angeles in colorful off-duty look on Weds., featuring a green-and-blue tee printed with the '70s-inspired graphic swirl. Opting for classic leggings, gray trainers, and her signature aviator sunglasses, the 30-year-old was on-the-move during a sunny spa day in Golden State, gearing up to host the Teen Choice Awards on Aug. 11.
Over the years, Hale's street style has carried a low-key L.A.-vibe throughout, generally including skinny jeans styled with sneakers, slides, or ankle boots. Adding a hint of sophistication with the help of a structured brown tote, Hale rounded out her summer outfit with hoop earrings and a black scrunchie, for good measure.
Laying the groundwork for how to enjoy some much-needed R&R in style, the Memphis native stayed true to the eye-catching trend she's been big on this season. Last month, the actor wore a one-piece tie-dye swimsuit that Camila Mendes also happens to own, and she even donned tie-dye way back in 2014, so the vibrant print obviously resonates with the 30-year-old's bubbly persona.
Designers and A-listers are in agreement on the groovy revival, because fashion runways and metropolitan sidewalks have been flooded with modern updates to the hippie favorite all year long. Rihanna donned a lime green tie-dye Comme des Garçons button-down shirt at the airport in April, while Gigi Hadid doubled down on the DIY-inspired trend, pairing a pink-and-yellow swirled tee with a Prada handbag plastered with the DIY-inspired print.
Whether you're ready to dive head-first into a nostalgic burst of color, or are just looking to dip your toes, options are abounding online. Start with The Zoe Report's selection of head-turning tie-dye pieces, ahead.
Shop The Look