Lucy Hale, Olivia Culpo, Jessica Alba, & More Are Obsessed With This Tote Bag
Emma McIntyre/Getty Images Entertainment/Getty Images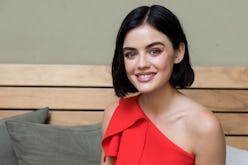 Ask any fashion girl what her favorite summer accessory is and she'll say the Dior Book Tote — the one Lucy Hale can't stop carrying — guaranteed. No, the current it-bag isn't a teeny tiny micro pouch or a trend-forward belt bag; it's a good old-fashioned boxy tote. Bella Hadid, Jessica Alba, and Olivia Culpo have confirmed it makes for a nifty carry-on, too.
The season of vacationing is in full-swing and no celebrity is going to the airport without Dior's Book Tote, it seems. Lucy Hale packs the accessory around constantly even when she not traveling, probably because the carrier is big enough to carry everything she needs for the gym (yoga mat included).
Hale rarely leaves the house without it these days, whether she's en route to spin class or running weekend errands. The ever-popular Book Tote — designed by Dior's artistic director, Maria Grazia Chiuri — is, in the brand's words, "the embodiment of casual elegance." It comes in a multitude of colors and prints.
Hale has just recently acquired the calfskin version in black and has become acutely obsessed with it. She debuted it on July 17 with leggings and a Lululemon ballcap, then wore it the next day with jeans and a button-down top. On Thurs., she carried it again while wearing a simple black tee and canvas sneakers.
That very day, Bella Hadid brought hers — a blue canvas version in Dior's embroidered Oblique print — to the airport. Not too long ago, Olivia Culpo traveled with her black-and-white checked version, too.
Jessica Alba was among the first to discover the versatile bag, carrying one of its original designs back in the spring of 2018. It wasn't long before Karlie Kloss and Sienna Miller followed her lead. Then Kate Bosworth, Rosie Huntington-Whiteley, Miranda Kerr, Jennifer Lawrence, Rihanna, and Victoria Beckham.
Alba has since upgraded to one with a pink geometric motif. Meanwhile, Anne Hathaway, Kate Mara, and Priyanka Chopra have stuck to Dior's classic monogram, the same one Hadid has.
The bag is almost a foot and a half wide and a foot tall, with plenty of room inside to fit your essentials and more. The handle can be held in-hand or slung over a shoulder. The celebs, however, hook it around their chic suitcases, of course.
The bag ranges between $2,650 and $3,350, but the slew of trendsetters who own it will tell you it's worth the splurge. It comes in 12 colors and prints, including American flag and buffalo check. Some celebrity favorites, ahead.
Shop The Look