Louis Vuitton Launched Its First Unisex Fragrance Collection & It's Basically Summer In A Bottle
Courtesy of Louis Vuitton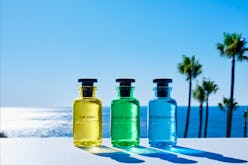 What if you could close your eyes, wish really hard, and open them to find yourself suddenly transported to a gorgeous sun-drenched locale? Unfortunately, it's not quite that simple. But, it just got a whole lot easier to imagine you're someplace warmer, thanks to the just-launched Les Colognes Louis Vuitton. Each fragrance is like summer in a bottle — so whether you've got a major tropical trip planned or not, scooping up one (or all three) of these bright new scents will surely lift your mood in an instant.
On April 4, Louis Vuitton unveiled something totally new and unexpected: A collection of three unisex fragrances. This is the first time the brand has introduced a capsule specifically formulated to be for anyone, so that everyone can enjoy the cool California-inspired scents. And if you've been hoping for a holiday in the sun, you'll want to snag these new fragrances fast.
Louis Vuitton's master perfumer, Jacques Cavalier Belletrud, pulled inspiration from the effortless beauty of coastal California when creating the three new Les Colognes Louis Vuitton, which are now available on the brand's site and in stores. Each bottle, $250 for 100 milliliters, focuses on one of the unique aspects of the West Coast's beauty, from the lush gardens, to the sparkling waters, to the golden skies. Sure, you could choose just one, but good luck narrowing it down.
Sun Song, encapsulated in a bright yellow bottle, envelopes the wearer in the charming glow of the summer sun, with bright and cheerful notes from orange blossom and a burst of lemony citrus. Neroli and musks temper the scent for a gentle finish. Wear this scent when springtime showers and gloom get you down, to remember what it's like to bask in the warm sun.
Typically go for lush green scents? Grab Cactus Garden, a fragrance that manages to capture the exact sensations of lounging on a plant-filled patio in the midst of a summer heat wave. Leafy greens are layered with mate, an exotic tropical tea, and bold florals like bergamot and geranium. A zesty note of lemongrass reinforces the herbal green foundation.
And crystal clear blue-bottled Afternoon Swim drenches you in the sweet, optimistic aroma of fresh oranges, with juicy mandarin notes and a dash of bold, refreshing ginger. Spritz the revitalizing fragrance and imagine you're standing at the edge of a dazzling blue pool, ready to take the plunge.
Each bottle of Vuitton's refreshing new fragrances comes encased in a box featuring multimedia artist Alex Israel's interpretations of the scents: an oversized gleaming sunglasses lens, a cactus-covered landscape, and a crashing Pacific Ocean wave. Keep scrolling to shop all three of the summer-ready scents — and don't be surprised if they inspire you to book a trip somewhere sunny.