Laura Mercier's New Matte Lip Color Features A Genius Solution For Uncomfortably Dry Lips
Laura Mercier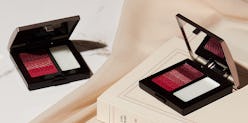 The evolution of lipstick can't be summed up in a few short sentences. You've seen for yourself lip trends come and go over the years, bullet lipsticks turn into liquid formulas, and, more recently, the introduction of lip powders. Like their predecessors, lip powders come with unique baggage. Applying the powdery formula can highlight every single crack in your chapped lips — which is exactly why Laura Mercier's new Velour Lip Powder palettes include a lip balm right in the palette.
Available as shades of Paris or New York, the two recently released limited-edition lip trios retail for $28 apiece and are available on Laura Mercier's website. Like many lip powders, the formula is creamy yet matte, with a slight metallic sheen and buildable pigmentation.
Since the trios come from Laura Mercier's Spring Colour Collection, you may suspect both palettes would be filled with preppy, seasonal pinks — and you would be half right. Both trios include a similarly hot pink, either as the New York palette's fuschia shade or Paris' bright berry. Yet, after that, the trios deviate. Paris is your vampy option and includes a dark plum and a pale, muted pink, while New York includes a rosy brown and a pretty coral.
But the pretty colors are just one half of the palette. The balm is just as important, since it acts as a base for the lip powder color and can be added on top for additional hydration. Fortunately, Laura Mercier doesn't skimp on the balm (which is good, since you may use more than you think before winter is over). Both palettes include a balm pan as tall as all three lip colors combined, and only slightly less wide.
For those curious about how the balm will perform compared to a chapstick you already own, Laura Mercier notes its ingredients alongside the lip powder's. The very first ingredient listed is hydrogenated polyisobutene — a synthetic oil with a long name and a long list of uses. Beyond moisturizing and skin-softening, the oil also repairs and strengthens your lips' skin barrier, meaning it will help your lips retain water in the future.
Don't forget, both lip trios are limited edition. To see them both, keep on scrolling down, or visit the brand's website.