Laura Mercier Introduced The Bright Coral Lipstick You'll Be Reaching For All Summer
Grosescu Alberto Mihai/Shutterstock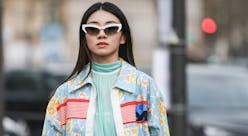 In fashion, a good edit tells a story — and it's the same in the world of beauty. For its Summer Color Edit 2019, Laura Mercier's Mediterranean Escape collection does just that. The collection is romantic, on-trend, and true to its nature; these are the makeup shades Laura Mercier knows you're going to want to reach for over and over this summer, whether you're on an island vacation or getting ready for another day at work.
The Mediterranean Escape collection includes four product ranging from $28 to $48, with a total of 13 different shades across the collection's products. On top of that, the collection covers almost everything you need to create an easy, summery makeup look: Laura Mercier's Glacé Touch adds a rosy flush, Sun-Kissed Veil bronzes skin, Velour Extreme Matte Lipstick defines lips, and the new Caviar Stick Eye Colour shades add a splash of creamy color to your lids.
Classic summer colors like gold and coral are spotlighted — like the lipstick's "Seaside" shade, a pinky coral lip color retailing for $28. However, unexpected shades also make an appearance, and somehow fit in just as well. The $29 Caviar Stick's "Azure" shade is a stunner that just so happened to drop right as 2019's blue eyeshadow trend is kicking into gear. The indigo eye color echoes Greece's quintessential blue and, when paired with a lip color like "Seaside", seems summery instead of smoky. (Though you certainly could create a beautifully dramatic smoked-out blue eye with the stick formula, too.)
That said, the other two products may be the most interesting for beauty fans. Besides being packaged in what may be the prettiest compact of the year, the $48 Sun-Kissed Veil bronzer can be used anywhere — use it to warm up your face, then on your legs, arms, and neck, too. It's your tan's new best friend.
And Glacé Touch fills a longstanding need in the community: glossy eye color. If you've checked Instagram the past year you know that the trend is huge, but there are less eye products than you'd think that easily let shoppers get the glossy lids they want. Laura Mercier's $28 Glacé Touch looks like a regular lip gloss (and can be used as one), but also is safe for eyes and cheeks, too.
Unfortunately, these game-changing shades won't be around forever. Many of the new colors are limited edition — and yes, that does include the pretty coral lipsticks. So keep scrolling down to shop the new shades while you can; summer is around the corner, after all.