Everyone's Favorite K-Beauty Mask Just Got A New, Winter-Friendly Version
Sephora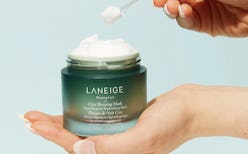 Among the list of best-sellers on K-beauty brand Laneige's site is the Lip Sleeping Mask, the Water Sleeping Mask, the Eye Sleeping Mask, and the Time Freeze Sleeping Mask. There's a simple reason for this long list: Its sleeping masks are good. And don't just take my word for it (though I'll gladly spout off all the reasons I adore them) — there are plenty of rave reviews on Sephora to back up this claim. Thankfully for fans, the brand recognizes the cult status its products have achieved and isn't stopping with its current offerings. No, it's continuing its bathroom-shelf domination by adding the new Laneige Cica Sleeping Mask to its lineup.
And it's just in time for winter. Not just because it contains hydrating ingredients (like ultra-moisturizing squalane); it also helps soothe redness and strengthen the skin barrier with fermented forest yeast extract. So if your skin is especially angry during the winter and you've been itching to try the brand's Water Sleeping Mask, this may be an even better option for you.
If you're unsure exactly how to use a sleeping mask (do you rinse it off? Do you need to use moisturizer, too?) don't worry — it fits easily into your routine. Simply use it as the last step: Post-moisturizer, apply it evenly to your face, leave it on overnight, and then rinse it off in the morning. And no, you don't need to use it every day — one to two times per week should do the trick.
Though Laneige has been around since 1994, the brand only launched in the US in 2014. But in the past five years it's become one of the must-have brands of beauty lovers. And as you could probably guess, much of that success can be attributed to its sleeping masks — you can barely open Instagram without a Lip Sleeping Mask or Water Sleeping mask popping up on the screen these days. (They're even dermatologist approved.)
Considering Laneige's success, its newest launch is practically guaranteed to be a hit as well — so keep scrolling to shop the Cica Sleeping Mask and try it for yourself.