This $80 Dress From Lane Bryant Is Influencer-Approved
Courtesy of Lane Bryant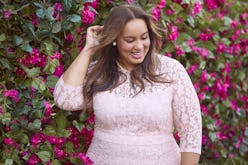 If nothing says spring quite like a whimsy dress, then Lane Bryant's latest Beauticurve collaboration epitomizes what the season stands for. The exclusive 10-piece capsule collection was co-created with Beauticurve's founder and Insta-star Rochelle Johnson, who not only infused some of her favorite trends of the moment, but also took a risk or two from a design perspective.
I think the biggest thing for me [in creating this collection] were the prints and colors," says Johnson. "I've always done a lot of pattern play on my blog and sometimes I'll get push back about florals and leopard print. I wanted to make sure I proved how wearable and beautiful prints and bright colors could be with a flowy spring dress."
Johnson's said pattern play is certainly in effect with this latest installment. Some of the biggest prints of the moment — leopard, patchwork florals and stripes, and polka dots are served up in punchy shades like fuchsia, canary yellow, blush, powder blue, and navy. "Pink is the big color for spring, so I'm so glad we got some pink in there," says Johnson.
The various styles also offer plenty of options for those particular about their dress silhouettes. Lace sheath frocks, asymmetrical midi wraps, pleated dresses, and sleek jumpsuits are all up for grabs — and, in true accessible Lane Bryant fashion all under $100. "I wanted to include pieces that were versatile enough for all occasions," says Johnson, who adds that dresses are great one-and-done items that take the stress out of dressing for the warmer days ahead.
In addition to being a coup professionally, the blogger's collaboration with Lane Bryant also hits a personal note. "I worked at Lane Bryant like 13 years ago," says Johnson. "It really feels like I've come full circle, especially since, back then, it was one of the only plus-sized options. I've always shopped here and loved it. So, I was excited when they wanted to do a partnership."
Susan Rodgers, Chief Marketing Officer for Lane Bryant says Johnson's history with the brand allowed for a better understanding of the customers she was designing for. "Because she's seen our client in the store, she really knew what our client wanted," Rodgers explains.
That knowledge coupled with the blogger's unique eye made the partnership and design focus a no-brainer. "The reason we partnered with her on dresses is because the femininity in the dress is perfect when you think about what Rochelle brings to the table every single day," says Rodgers. "Her followers love her for being gorgeous and confident in herself, in her size, and who she is. She brings that to life in this collection."
If you're looking to get in on the dress magic whipped up in the Beauticurve collection, best jump on it now. Rodgers predicts pieces like the jumpsuit and leopard maxi will sell out quickly. To help you get a running start, below you'll find five worthy finds from the installment for you to add to cart immediately.