Lady Gaga's Beauty Line Is Probably Launching Very Soon — Here's Why
Tommaso Boddi/Getty Images Entertainment/Getty Images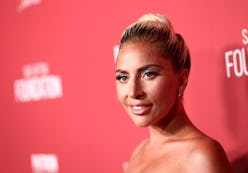 The last few days of 2018 have proven to be an exciting time for surprising celebrity announcements — after all, what better way to end the year with a bang than with an unexpected reveal? First, it was Miley Cyrus and Liam Hemsworth's secret wedding that had the internet in a frenzy. Then, it was Heidi Klum's cute engagement announcement to rocker Tom Kaulitz that was pure Instagram gold. And now, it's the latest news surrounding Lady Gaga's beauty line, Haus Beauty, that has people talking (read: speculating) that its official launch is very near — and with good reason.
On Dec. 31, the website for Haus Beauty, Lady Gaga's rumored beauty line that's set to cover cosmetics, perfume, and skincare, went live — well, sort of. Fans of the singer noticed early Mon. morning that the domain name, Haus Beauty, now brings you to an actual webpage. But before you get too excited, it's important to note that as of right now, it's just a blank, black page that doesn't offer up any more details surrounding the product offerings nor the beauty line's official launch date.
What the website does have, however, is an option to input your email address, which is likely to add your name onto a mailing list where you'll be the first to know any and all details surrounding Haus Beauty. In other words, this is one thing you certainly won't want to unsubscribe from anytime soon.
The news of the beauty line launch is nothing new, however. In fact, rumors starting circulating back in May, when eagle-eyed fans noticed that the singer's company, Ate My Heart Inc., filed a trademark for "Haus Beauty" in Feb. 2018.
As it turns out, though, the singer has actually been dropping hints of her forthcoming beauty line's launch since early Jan. 2018, oftentimes posting makeup-centric photos on Instagram with the hashtags #haus, #hausofgaga, and #hauseditorials.
Once the beauty line launches, it will be easier than ever to emulate the singer's bold makeup looks with ease (think: her signature bright lips, exotic eyeshadows, and big lashes.) But until then, you can still get your hands on a few Gaga-approved beauty essentials. Below, some of the singer's go-to products that you'll want to add into your lineup ASAP.
Shop The Look