Lady Gaga Just Broke This Unspoken Beauty Rule & Totally Pulled It Off
Kevork Djansezian/Getty Images Entertainment/Getty Images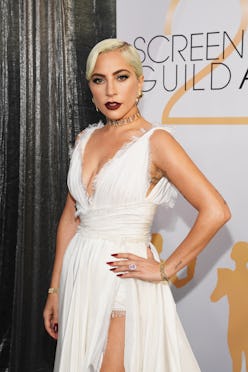 You've probably heard the beauty "rule" at some point that you're not supposed to match your nails (or your blush, or your eyeshadow) to your lipstick to avoid having too much of one color in your makeup look. There's definitely no reason to follow that rule, though — it's your makeup, and you should wear whatever you want — and clearly, the makeup artists to the stars at the 2019 SAG awards feel the same way. Case in point? Lady Gaga's dark red lipstick and matching nails, which she paired with a beautiful white Dior gown for some stunning contrast on the red carpet.
Lady Gaga's makeup artist, Sarah Tanno, is obviously no stranger to bold looks. The singer and actress has never been one to adhere to beauty "rules", and once again, she chose to take an untraditional route with her 2019 SAG Awards look.
According to an Instagram post from Tanno on the night of the awards, the makeup artist chose a stunning shade of red to pop against Gaga's bright white gown, lining her lips in Marc Jacobs' $24 (P)outliner Longwear Lip Pencil in the shade "Currant Mood" with a heavy hand. She then added the $30 Le Marc Lip Crème in the color "Blow", before finishing with the shade "Dashing" in the center of her lips to add some brightness. Celebrity manicurist Miho Okowara completed the matching look with Essie nail polish, $9, in the shade "Berry Naughty".
Gaga's lipstick and nails weren't the only great part of her makeup, and thankfully, the rest of the look is just as easy to recreate. According to Tanni's Instagram, the makeup artist took notes from the star's Tiffany jewelry and used loose gold glitter in the corner and center of her eyes to mirror the shine and color of the accessories. To finish the look, Tanno went with glossy skin, setting powder, and bronzer for a glow that complemented the darker colors beautifully.
It's no secret that Gaga loves to surprise on the red carpet. Just a few weeks before the SAG Awards, the star showed up on the Golden Globes red carpet with dyed blue hair to match her blue Valentino dress, and of course she's worn plenty of outfits and beauty looks in the past that were equally as wild. The A Star Is Born actor will be making plenty of appearances during this awards show season, which means there will be lots of opportunities for her to continue shocking fans on the red carpet. And since matching seems to be a theme in her 2019 ensembles, there's a good chance she'll continue the streak with some shades that are even more fun. Here's hoping there's a slime green look in our future.
Shop Lady Gaga's Lipstick & Nail Polish
Editor's note: This post has been updated from its original version.