Lady Gaga's Blue Hair Was A Legit Dye Job — Her Golden Globes Look Proves It
Emma McIntyre/Getty Images Entertainment/Getty Images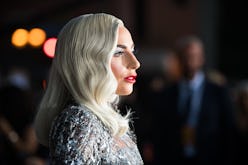 While scrolling through your Instagram feed, you might have seen Lady Gaga's blue hair and thought the singer was sporting a wig for her Vegas debut. Her Golden Globes look just confirmed, however, that Gaga got a dye job. The A Star Is Born actor's blue hair isn't going anywhere anytime soon.
The singer is known for her over-the-top style, so it's no surprise that she went for the boldest hair imaginable for her first performance at the iconic Park Theater. After commencing her year-long Las Vegas residency, Enigma, on Dec. 28, Gaga took to Instagram to share a photo of her and Vegas veteran Celine Dion together in a prom pose.
The big night called for a dazzling embellished jumpsuit and striking blue hair. And while it isn't uncommon for the singer-slash-actor to wear a wig, the bold look lingered for the 2019 Golden Globes on Sun., proving that she actually dyed her hair.
Gaga, whose latest film was nominated for five awards, is expected to have a momentous night at the awards ceremony. She arrived on the red carpet in an extraordinary Cinderella-style Valentino Couture gown. The dress featured puffy off-the-shoulder sleeves and a cascading train. The stunning number was the same blue hue as her hair, which seemed to have faded since the recent Vegas show.
Unlike the curled style she sported in Vegas, the actor pulled her vibrant hair into a unique bun for the Golden Globes. The updo was pulled back away from her face and folded over at the crown with wavy pieces left out on either side.
And just because the "Shallow" singer opted for bright monochromatic blue doesn't mean she couldn't wear bold makeup, too — it is Gaga, after all. She went for a neutral lip, but her metallic smoky eye was the highlight. The nominee, of course, topped her look off with plenty of bling.
She wore $5 million in diamonds, according to The Hollywood Reporter. Gaga's neck was adorned with a weighty drop necklace, which matched a pair of cluster earrings, and a trio of stacked bracelets on her wrist, all by Tiffany & Co., whose color is, coincidentally, blue.