The Nostalgic Detail In Lady Gaga's Met Gala Look That You Probably Missed
Neilson Barnard/Getty Images Entertainment/Getty Images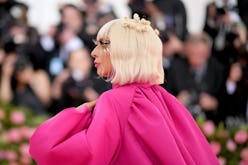 Who doesn't love a throwback? In the midst of her spectacle of an entrance on the red carpet (which included all of four outfit changes), Lady Gaga's Met Gala hairstyle gave diehard fans something else to talk about. To be clear, only long-time followers will catch this small but very intentional hair homage to the singer's early days.
Yes, if you look very carefully, you'll notice small bows atop Gaga's blonde bob, made out of her own hair. If this little detail hits you with a does of nostalgia, you'd be right on the money. In her early years of stardom (approximately 11 years ago, around the time her first single "Just Dance" was released), Gaga was know for donning more dramatic and extravagant hair bows, typically pairing them with long, straight hair and blunt bangs.
For her 2019 rendition, the singer went for several mini hair bows scattered around the top of her head, creating a playful crown of sorts. The subtle yet interesting hairstyle proved totally versatile as the star went through a live and quite theatrical outfit change, which commenced with a stunning voluminous flamingo pink gown by Brandon Maxwell.
Coincidence? Probably not. With more than 10 years of unprecedented success in music, television, and film, it's no surprise the East Coast-born singer paid homage to the look that first made fans fall in love with her unconventional and trailblazing style. For those who've followed Gaga from the beginning, you probably remember first noticing the bow-infused hair, oversized and bedazzled sunglasses, fishnet stockings, and Latex bodysuits.
Since then, Gaga has evolved with her look 10 times over, and is known for being somewhat of a style chameleon. Endless iconic looks have been added to her sartorial repertoire. There was the infamous meat dress that she paired with two-toned hair and a matching meat hairpiece. There was the time she traded her hair bow for a hair hat (several times) for an equally unique and dramatic effect. Oh, and one can't forget the Marie Antoinette-inspired wig she donned on quite a few red carpets in 2010. Her look has truly come full circle.
It's safe to say the singer and actor is fearless when it comes to her hair, but will revisit old tried-and-true looks that served her well as a fledgling artist. Considering her accomplishments this year, it's not surprising she's giving a nod to the iconic hair bow that practically put her on the map as a style icon. (Heck, that look was everyone's Halloween costume in 2008!)
If this look is making you ache for more throwback Gaga, say no more. For yet another gratuitous dose of nostalgia, ahead, take a walk down memory lane to some of Gaga's most iconic hair moments (including the hair bow!).
At the 2009 Nokia 5800 launch party.
At the 2010 MTV Video Music Awards in Los Angeles.
At the 2009 Accessories Council Excellence Awards.
Performing in Palais Omnisports de Bercy in 2010.
Gaga's opening look at the 2017 Superbowl.