Lady Gaga's 2019 Met Gala Outfit Changed So Many Times On The Red Carpet
Dimitrios Kambouris/Getty Images Entertainment/Getty Images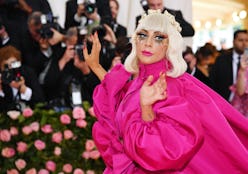 Mama Monster is back. On the first Monday in May, fans were not treated to just one Lady Gaga Met Gala outfit. Instead, the 2019 co-host took viewers on a journey through her fashion past — oversized bows and fishnets included — by disrobing on the pink carpet. And in true Gaga fashion, she somehow made it look absolutely iconic.
However, fans undoubtedly would have been happy with just her first look: Lady Gaga's hot pink dress, the first of many to come, was nothing short of a statement; it featured voluminous sleeves and a dramatic train that took over the entrance's stairway. So dramatic, in fact, that the queen of pop's dress actually required multiple handlers — who made sure it looked perfect as Lady Gaga stopped to pose for photographs. (They also seemed to cover the dress with umbrellas, too, which was a nice touch.)
There were clues of the fashion moment to come, though. According to Vogue, Lady Gaga's hot pink dress was created by the Brandon Maxwell. A name that will ring a bell for any little monster; Maxwell was the designer behind Lady Gaga's infamous meat dress. And while Lady Gaga has had her share of chic, Hollywood-glam red carpet moments (paging the Oscars 2019 necklace), this is the camp Met Gala, after all.
The first reveal may have been a callback to Lady Gaga's Oscars 2019 dress, as well. Upon reaching the top of the staircase — symbolism fans will surely be questioning for years to come — Lady Gaga took off the pink dress. Beneath it was a black, strapless gown, which bore a passing resemblance to the Alexander McQueen dress the artist wowed in last February.
The artist wasn't done rewinding her style clock, though. Lady Gaga removed that dress, revealing a figure-hugging fuchsia gown. She also donned a pair of Linda Farrow N°21 S21 C1 Oversized Sunglasses — and suddenly also accessorized with a chunky, old school telephone, which she seemingly took a call from. It was a Fame Monster-era moment for the books.
Dimitrios Kambouris/Getty Images Entertainment/Getty Images
Neilson Barnard/Getty Images Entertainment/Getty Images
Where else was there to go, you may be wondering? There wasn't another, smaller dress hiding beneath the pink sheath. When Lady Gaga removed that dress — which of course she did — a glittery lingerie set, fishnets, and trademark platform heeled booties were unveiled.
Paired with her platinum bob and blunt bangs, it seemed to be a purposeful return to the style that helped to make the singer a household name. With Gaga, you can always count on fashion choices to be purposeful — and for the occasional, luxuriously campy outfit. (Or, in this case, outfits.)