Kristin Ess' New Holiday Sets Are Almost Too Good To Gift
Kristin Ess/Instagram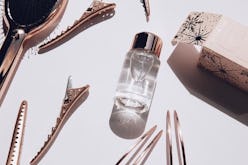 Sure, you know that you probably should wrap up Kristin Ess' holiday sets after you grab them from Target, and set them to the side for a friend or family member. Debuted Nov. 10, the haircare brand's two new holiday 2019 gift kits are already prepackaged in wintry, rose gold boxes — the only thing missing is some wrapping paper. But truthfully, it may be hard to resist keeping them for yourself. And not only are the new sets that good; Kristin Ess also just released a new size of its iconic, limited-edition The One fragrance for the holiday collection, too.
And before you ask — yes, this year's lineup is just as affordable as Kristin Ess' previous gift sets. For example, the brand-new Pillowcase + Mini French Pin set retails for just $15 (even though it's virtually guaranteed to be a fan favorite). "For this set, I took our two most popular sets from last year, combined them and then upped the ante," founder Kristin Ess herself explained on Instagram. "This has my satin pillow case, a classic KEH French Pin and then I added a mini pin for half up styles and finer hair. With this set, there will be no more waking up with kinks, creases or frizz no matter HOW much hair you have!"
The same goes for the brand's other kit, the Detangling Brush + Sectioning Clips Hair Styling set; you can pick up the brush and clip bundle for only $15 at Target. As for the rose gold brush, Kristin Ess called it "just pure MAGIC when it comes to detangling" on Instagram. You'll get plenty of use out of the sectioning clips, too — each one is designed to resist slipping out of place or leaving any indents on your hair.
However, fans are probably even more excited about getting their hands on a full-sized version of Kristin Ess' The One fragrance. The new perfume size retails for just $20 and dropped on Nov. 10, as well — almost exactly one year after the original rollerball fragrance debuted in 2018. As you may remember, that limited-edition scent was very popular: The One offers up the signature scent from Kristin Ess' haircare line, blending together a unique mix of sandalwood, florals, and fruit.
And really, with everything way under $30, you may as well pick up some holiday sets to keep and some to gift. Below, all three new pieces from Kristin Ess' holiday 2019 release.