A Summer Sweater Is Going To Be Your New Hero Piece For The Next 120 Days
@taylranne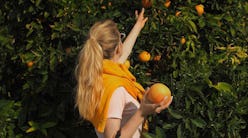 With rising temperatures finally cutting through the winter chill, you might be eager to say goodbye to sweaters until fall — but don't be so quick to stow those knits. If you're one of those people who is permanently cold and never goes anywhere without an extra layer in tow, whether it's 40 degrees or 80 it shouldn't be hard to convince you. But even if you aren't quite as cold-natured, if you've ever worked in an office where the air-conditioning is on full blast or been to the beach on a windy day when the sun is shrouded in gray cloud cover, you know that there are certain situations when a lightweight summer sweater can come in handy.
That's not to say you should try to keep your heaviest wool pieces in play. Warmer months call for a different type of knit. Think airy cashmere, cotton, or linen and silk blends; cropped lengths, short sleeves, or tank styles. Take the chilly workplace scenario for example: A classic cardigan will keep you warm when the A/C is set to freezing while still looking polished enough to wear to a meeting, and you can always drape it over the back of your desk chair when you don't need it. Or, if you find yourself at the shore on an unfortunately overcast day, a thin cashmere pullover is the perfect-weight layer for throwing on over your swimsuit when the sea breeze blows. Continue on for 11 ways you can keep wearing sweaters through the spring and summer months, plus shop some of the season's most stylish options.
As A Bathing Suit Cover-Up
A sweater isn't the most obvious item to bring for a day at the beach, but a soft cashmere version will be your best friend if the clouds roll in. It's far cozier than a damp towel, and a stylish upgrade from your usual swimsuit cover-up.
Over A Slip Dress Or Skirt
Silk skirts and slip dresses are a summer staple for fashion girls, but such flimsy pieces can leave you chilly once you step indoors. A fitted cardi or cotton ribbed knit can help make up for the lack of coverage.
Cardigan With Nothing Underneath
Shrunken cardigans are enjoying a trendy moment. During summer months, opt for a thin style and wear it alone without anything underneath for a sexy, sultry look.
Short Sleeves And Tanks
One of the easiest ways to make knits more wearable for warmer weather is by altering the sleeve length. Consider a knit tank or camisole, or a short-sleeve style, like a sporty polo top.
Slouchy Knit With Shorts Or A Mini
If slouchy, oversized sweaters are your thing, you can still pull them off during summer if you leave your bottom half a bit more uncovered. Be sure to stick to open-weave knits and breathable fabrics like cotton though.
Tied Around The Shoulders
Even if you're not in need of full sweater coverage at the moment, keep the option available by knotting a classic long-sleeved knit around your shoulders till you need it.
In Sweater Dress Form
Sometimes the best way to wear a sweater in summer isn't a sweater at all. A knit dress makes for a cool alternative to your standard pullover.
Granny-Chic Crochet
The bohemian quality of crocheted pieces feels perfectly suited to summer's laid-back mood, plus the open weave of this type of knit lends itself to warmer weather.
Short And Sweet Crop Tops
Cropped sweaters, while rarely practical in winter, were made for spring and summer wear. Bare your abs in an abbreviated knit with some high-waist shorts or a miniskirt.
Layered In Unexpected Ways
A lightweight sweater can really open up your options when it comes to layering. Get creative with your pairings, like wearing an open-back camisole or asymmetrical sleeved knit over your favorite tee.
A Nautical Neutral Look
Head-to-toe beige is hot for the spring and summer season. An off-white cotton cableknit sweater has a nautical vibe that feels suitably summery, plus the textural pattern helps make an all-neutral outfit a little more interesting.