KKW Beauty's Holiday Collection Is Coming To Ulta With A Very Glamorous Lip Trio
KKW Beauty/Instagram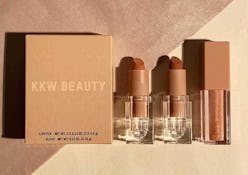 You didn't think that Kim Kardashian West would miss an opportunity to celebrate the most wonderful, glamorous time of year, did you? No chance she'd let her always-buzzed-about beauty brand sit out while the rest of the industry served up gorgeous, glitzy drops for the festive season. Finally, some initial details about KKW Beauty's 2019 holiday collection have been released, so you can strategize when you'll get your hands on it. Here's a hint: it's dropping at one of your go-to beauty stores.
Just in case it wasn't exciting enough for KKW Beauty fans that the line will soon be a whole lot more accessible when it arrives at all Ulta storefronts — on Oct. 20 to be exact — the brand is landing with a bang with the launch of its limited-edition holiday 2019 sets to help you get glam for the holidays the Kardashian-West way.
On Oct. 14, KKW Beauty dropped a first glimpse at one of the exclusive holiday launches that'll be shoppable at Ulta. And just as you'd expect from the style icon-slash-beauty-mogul's brand, the gift set takes holiday glam to an ultra-chic level that's totally different than other brand's festive drops.
The Holiday 2019 Lip Trio, $38, is an official preview at what's to come from KKW Beauty for the party-heavy season, and it packs exactly what you'll need to dress your pout for every social event on your schedule. Kardashian West and her team included two lipsticks — Nude 3, a on-trend terracotta hue in a creme formula, and a '90s style matte lipstick in a rich shade of brown — alongside a very shimmery Ultralight Beams Gloss in Rose Gold.
Whether worn alone or layered (the rose gold gloss will add multidimensional shine to the creme and matte lipsticks), the result is a sleek and stylish look that'll stand out amongst a sea of crimson red or rich wine lips. After all, the last thing Kardashian West would want is for you to blend in.
Although it's not yet apparent how extensive the exclusive-to-Ulta holiday drop will be, it has been revealed that a limited-edition Crème Lipstick & Highlight Set, $29, will also drop on Oct. 20. It includes a creme lip color in a shade KKW calls the "perfect nude mauve" and a compact super-shimmery gold highlight that'll be ideal for strobing the high points of your face. Plus, last year's iteration included an eyeshadow palette, eyeliner, lipliner, and more — so fingers crossed that there's additional surprises to come.
Thanks to KKW Beauty's new partnership with Ulta you'll soon be able to check out the cult-loved buys in more places, instead of scrambling online to snag them before they sell out. Regardless, you'll still want to set a calendar alert for Oct. 20 so you can shop right away.