KKW Beauty's Upcoming Makeup Collection Features A Never-Before-Seen Lip Formula
KKW Beauty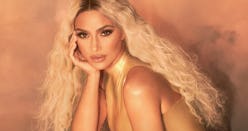 In an Instagram post announcing KKW Beauty's new Celestial Skies collection, Kim Kardashian wrote the one thing that any beauty fan could tell you about the makeup mogul: "As everyone knows, my go to is always a bronze eye look - it's my absolute favorite." And it's true; Kim K's soft, neutral-toned glam is legendary to fans, especially for those who frequent the star's beauty brand (which offers the aesthetic in spades).
It should come as no surprise that the upcoming Celestial Skies lineup nails the polished style perfectly, too. The new collection launches Jan. 24 at 12 p.m. PT — exclusively on KKW Beauty's website, according to a post by the brand on Instagram. Primarily centering around a mix of bronze, pink, and brown (with a few wild card shades thrown in), Celestial Skies offers fans three $25 five-pan eyeshadow palettes, two $38 matte or shimmer blush palettes, and five lip crayons.
"I've been carrying the new @kkwbeauty Bronze Heaven 5-pan eyeshadow palette in my purse for months now and it's been my go to especially when I am traveling and have to do my own glam," Kardashian continued on her IG post. "The combination of matte, metallic gold and brown shades are perfect for everyday and when you want a more glam look the smooth formula makes it very easy for layering."
However, diehard fans of the brand will find themselves most distracted by the $18 KKW Beauty Lip Crayons, a totally new formula with a lacquer-like finish. In typical Kim K fashion, the five soon-to-be-available shades are primarily understated nudes — with the warm pink lip color aptly titled "Subtle Nude." The launch will also feature two Lip Crayon bundle options: The $26 Subtle Nude Lip Bundle (which includes the crayon and a KKW Beauty Lip Liner in "Nude 1.5") as well as the $75 Lip Crayon Bundle of all five shades.
Likewise, there are value options across the collection — including the $215 Celestial Skies Complete Bundle for those who want to swap their current makeup stash for the new dreamy pastels and moody lip colors. You can explore the entire collection on KKW Beauty's website; and remember to set your alarm for 12 p.m. PT on the dot once Jan. 24 rolls around, because there's no telling how long the website-exclusive collection will stay in stock.