Kesha Is The Latest Celeb To Launch Her Own Beauty Line — Here's What We Know
Courtesy of Kesha Rose Beauty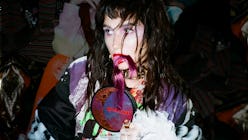 Diehard Kesha fans are watching the clock and counting down the minutes until Dec. 3 — because that's the day that Kesha's beauty line will make its official debut. Her assembly of adoring "Animals" is already preparing to dive into the singer-songwriter's ultra-colorful world in anticipation of her forthcoming album, but now they'll get the chance to do so even sooner (and in an all-new way). And if you've ever admired her kaleidoscopic, dripping-in-glitter take on beauty, chances are that you, too, will be anxiously awaiting the arrival of Kesha Rose Beauty. Tik Tok, indeed.
Just days after unveiling her new single, "Raising Hell", the rockstar dropped news on Nov. 7 that she'll be expanding her empire into an entirely new domain: beauty. The eponymously-named line, Kesha Rose Beauty, is positioned to give fans another way into her dazzling universe, and to drop some serious hints about her 2020 album, High Road. But it's also aimed at helping Kesha (and you) confront beauty standards and try new things.
"I don't even really like using the word 'beauty' because it's more about expressing yourself," Kesha told Refinery29 in an interview at the end of October. "It's about redefining what beauty means to you. Beautiful is happiness and happiness is beautiful, so that's what I am trying to encourage with the makeup line and with the record."
Kesha Rose Beauty will challenge the status quo and channel your individual aura with five high-impact makeup products, which'll be up for grabs individually as well as in complete bundles — one of which comes in a Collector's Box for $120, and includes a special note from Kesha herself.
The line's $36 FTW Eyeshadow Palette (the round, red tassel-adorned compact pictured in the promotional content) features 12 celestial-inspired shadows that you can only assume will be out of this world, and the Whatever Wherever Wands, $28, boast dual-ended long-wear and waterproof liquid eyeliners named after songs on the new album. Lastly, the $26 Lipstick and Lip Gloss Duo presents a tag-team of Kesha's Raising Hell Red Lipstick and That B*tch Lip Gloss, the latter of which shifts shades of pink based on your pH (or as Kesha would probably put it, your aura).
Itching to bring out your inner Animal? Keep an eye on the brand's Instagram page and opt in for updates to be among the first to join Kesha in raising hell.