Kérastase's New Night Serum Is About To Make You Rethink Your Haircare Routine
Shutterstock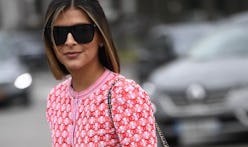 So, you're getting ready to slip between the sheets — you've slathered on body lotion and applied your overnight face mask, and you're probably thinking you're covered head-to-toe, right? In reality, you might be skipping the "head" part of that phrase by missing out on moisturizing one major thing before you hop into bed — your hair. Often, the time you spend sleeping is underutilized when it comes to your tresses; however, just like you take advantage of your shut-eye to rejuvenate your skin, the same can be done for your mane. Fortunately, the quest to find such a strand-saving product has been made that much easier with the release of Kérastase's Nutritive 8H Magic Night Serum.
Known for serving up luxe products, Kérastase's new arrival will enable you to seamlessly bring haircare into your nightly routine and redefine the term beauty sleep when it comes to your locks. Ringing in for $55, the nourishing serum uses all-star ingredients vitamin B complex and Iris root extract to condition and repair your hair from the time your head hits the pillow to when you press snooze on your alarm.
Not only does the product replenish the nutrients and moisture lost from factors such as hot-tool styling and environmental elements, but it also takes into consideration the challenges hair meets when you're sleeping. How so? Though your pillow may be a comfort after a long day at the office, what you may not realize is that it can lead to hair cuticle damage. Lucky for you, this serum works to protect your strands from pillow friction and provides hydration to combat the drying effects brought on by your bedroom's heat and air conditioning.
No time for a shower before bed? No problem. This product doesn't require wet hair, nor will it eat into your sleeping time if that's what you're concerned about. The easy-to-use serum's process is two simple steps: First, spread the product in your hands, and then just disperse it evenly throughout your hair lengths and ends. And since it promises 100 percent absorption in eight hours, you won't have to get up early to rinse and can roll out of bed with lightweight, shiny strands.
If that wasn't enough, the serum's formula includes a fragrance that evolves over the course of the night. In the evening, you can drift off to sleep with a relaxing scent of floral. As for the morning? You'll awaken to more energetic scents that'll have you ready to seize the day with your satin tresses.
Continue on to shop the night serum to make your dreams of glossy hair a reality.