Kendall Jenner's Floral Crop Top Is 60 Percent Off — & Still In Stock
Sean Zanni/Getty Images Entertainment/Getty Images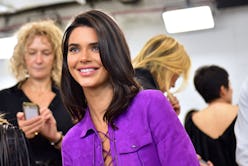 When it comes to rocking a polarizing trend, this model can do no wrong. She could be wearing the quirkiest print from head to toe — as she often does — and the following day, it would be all the rage. The floral crop top Kendall Jenner wore on Sun. isn't by any means her most surprising; it is, however, 60 percent off.
The 23-year-old's latest weekend outfit consisted of a little flower-adorned tank that turned out to be the perfect match for her very eccentric jeans. You didn't think she'd go out without at least one controversial thing on, did you?
If you thought Jenner's denim by Olivia Øblanc looked a little off from the front, you should see the back, which is defined by, well, another front. These anti-skinny jeans feature frayed outseams and a deconstructed hem. But what makes them extra funky is a zipper and rounded pockets on the butt that make it look like she might be wearing them backwards (she could be).
So, what could you possibly wear with a pair of statement pants like that, you ask? Jenner's floral-print crop top — a linen bralette of sorts by Zimmerman — proved to complement the jeans pretty effortlessly.
The top hails from the brand's Resort 2019 collection, which, according to the brand, is inspired by the old-school style of a certain actor. Anjelica Huston — who you might recognize as the face of Morticia Addams from 1991's The Addams Family — is the unsung fashion icon of the '70s.
It makes total since, seeing as Jenner seems to be feeling particularly retro lately, as demonstrated by the vintage pink Cadillac she posted on Instagram Mon. The top, which features a ruched front and adjustable tie straps, actually coordinates with a pair of matching linen pants for the full effect. Snag the summer staple ASAP and get 60 percent off.
Shop The Look