Katherine Schwarzenegger Proves The Power Of A Simple Floral Blouse & Jeans
Rich Polk/Getty Images Entertainment/Getty Images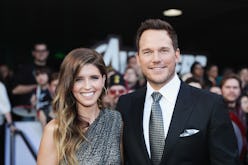 Being stylish comes with more responsibility than you would think. Whereas other women can simply throw on the first thing they come across in their closets, getting dressed in the morning demands a certain level of creativity from the trendsetter who has a reputation to uphold. Nevertheless, fashion girls like Katherine Schwarzenegger still occasionally wear floral tops and jeans just like the rest of us.
For many, the 29-year-old blogger is a prototype of style. What people don't realize is how simple, how clean — how very non-polarizing — her aesthetic really is. Schwarzenegger has a way of making it all look impossibly easy.
The classic jeans outfit she just sported is the perfect example. Schwarzenegger went to lunch in Brentwood with her brother, Christopher, and mother, Maria Shriver, on Weds. and her ensemble was as simple as it was enviable.
She dressed up her light-wash denim — a trusty pair of loose-fitting "mom jeans" — with a lavender button-down blouse with allover floral print. The super-flowy, slightly-cropped top featured an adjustable drawstring waist that Schwarzenegger let hang loose and trendy blouson sleeves.
The newlywed completed her casual outfit with a white shoulder bag, matching strappy slides, and a juice in-hand, the most LA of accessories.
If you look back through Schwarzenegger's style file, you'll find a whole lot of jeans and t-shirts, yoga pants, messy buns, and flip-flops. The book author is basically all of us with a hair scrunchie on our wrists and a denim jacket tied around our waists. Fashion should be practical, after all.
Her latest lunch look proves one should never underestimate the power of a simple floral top and jeans. Say hello to your new go-to summer outfit. More floral tops that Schwarzenegger would approve of, ahead.
Shop The Look