Keke Palmer's Skin Routine Includes This $9 Body Wash — & The Occasional HydraFacial
Ben Gabbe/Getty Images Entertainment/Getty Images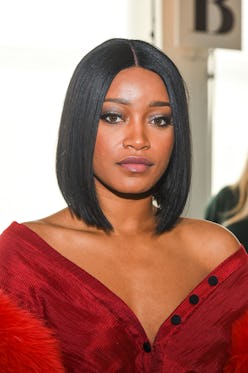 Keke Palmer is everywhere: on Good Morning America, on your movie screen, and on your timeline (have you seen her memes?). But on a late August evening in New York City, she was with me: present, attentive, and candid. Her warm energy and effervescent voice seemed to completely ensconce the space and brought me to an ease that you don't get with every celebrity. Before I knew it, two Black women in industries where they're both the minority were sharing personal stories hair journeys and skincare secrets. And just like everyone else, Keke Palmer's beauty routine is one that's not just about how she looks on the outside. It speaks to the journey she's embarking internally, too, which made her the perfect candidate to be an Olay Body ambassador.
"I have to say, I've always used Olay," she tells TZR in an Aug. 27 interview. "I love them just for the fact that their products smell good, they're simple, and I've had it in my family for awhile so it's a product I'm comfortable with. Plus, I'm not that girl that always puts on lotion. So using this Ultra Moisture helps make sure that I'm set for the long day ahead."
But it's more than just the nostalgia of childhood memories that drew Palmer to the brand. With 2019 bringing about a multitude of success for the star who made her big-screen return as exotic dancer Mercedes in Hustlers, the occurring metamorphosis strikes a resemblance to the mission of the drugstore leader. "They're all about transformation," she says about Olay. "I'm going through a transformation right now. I have a lot going on with the show, I just did the VMAs, my birthday just passed, the movie is coming out, so it just seems like we're on the same page."
Or rather, a new chapter. In case you missed it, the star made her runway debut last week in Christian Cowan's Spring/Summer 2019 presentation, radiating in a skin-bearing sequined dress that surely did that hydrating body wash proud. Strutting her stuff with undeniable confidence, Palmer never thought that the opportunity to walk in such a prominent show would actually come to pass, and she doesn't take the moment for granted. "I'm not really the typical person to walk in Fashion Week. I'm not a toothpick, I'm not really tall. I thought I was 5'6, but I went to the doctor earlier, I found out I'm 5'4 and a half," she jokes.
But height isn't the only thing Palmer thinks has held many women, particularly Black women, back in the fashion industry. "There's also my complexion," she emphasizes. "I feel like a lot of times when you see models in beauty and fashion they're either extremely light, or very brown-skinned, which are both very beautiful, but often times you don't see this kind of mid-range brown skin so I love to be able to represent that."
So ahead, check out why one of the busiest women in showbiz has found comfort in a minimalist approach to skincare and beauty.
On Self-Acceptance
"I don't let the world tell me what's beautiful," she states strongly. "I find many different things beautiful about people, one of those things, is women that are thick. We've been told for years that when someone's overweight that they're not beautiful and that's just not true." In fact, when the conversation of body positivity arises, she gushes over her Hustlers co-star Lizzo. "I look at her and I don't want her to be any smaller, I love her exactly how she is, that's sexy to me."
But Palmer's acceptance of herself is something that's taken a little more time. "I've learned to embrace the fact that everyone's standard of beauty is just not the same. What you think is beautiful, someone else might not. Beauty is in the eye of the beholder, and I feel like there's a lot more freedom when you realize that beauty is not defined by one thing."
Breaking Free From Hair Hang-Ups
Like many Black women, Palmer and I share almost identical experiences with embracing our roots. "I think I used to be real caught up in hair," she says. "I thought that the only time hair was beautiful was when it was straight." That thought process is a staunch contrast to her decision to wear cornrows down the runway last week. "As a kid it was all about braids, then as I got older everything became weaved out, and it made me feel trapped. Now I like whatever feels natural to me as an individual, caring less about looking a certain way for others."
Skincare
Palmer came a long way from her early days of pumping her body with lots of Accutane to fight hormonal acne. Now, she prides herself on being able to use less. "My skin is still a work in progress. I have to accept that things aren't going to be perfect and learn to be patient with the fact that my skin might not be flawless. When I was a kid, a lot of it was hormonal changes, so I was in and out of the dermatologist. However, as I grow older, I realize many of my skincare woes were because I was wearing a lot of makeup all the time. So I made facials a bigger part of my life."
"I feel like I will always be willing to risk it all for a facial. I've really created a close relationship with my facialist. I love her," she brags of her aesthetician at Haven Spa in New York City. And she's passionate as ever about her favorite treatment, too: "Hydrafacial "My go-to lady is so sweet and she's from Poland. She's always like 'you're eggshell, you're eggshell,' and I'm like 'yes baby, eggshell me!'" Palmer describes of her skin post-treatment. And while she enjoys her spa days, she maintains her skin in-between visits with a slew of at-home beauty tools, too. "Now they have at-home steamers, and I always use a skincare brush so that I can really get in and exfoliate my skin and make sure that cleanser is penetrating into my pores."
Self-Care
Like any other girl out there, Palmer too enjoys having a glammed-up face complete with highlight, contour, and dramatic set of lashes. However, when she feels her most confident are the moments when makeup is at a minimum. "I like when things are clean," she admits. "So when I go get my eyebrows waxed, do my Brazilian laser treatments, go get my nails done, and do a great hair treatment, those four things, plus when my skin is breathing, no makeup, is when I feel the most beautiful." And with such a demanding schedule, having time to invest in herself is an integral part of making sure she feels the same on the inside as she does on the outside. "I feel like I've done something that's actually helping myself. It makes me feel beautiful that I'm taking care of myself. It's more about the self-care than the makeup."
Shop Olay Body: