Katherine Schwarzenegger Just Proved Stylish Raincoats Exist
Jonathan Leibson/Getty Images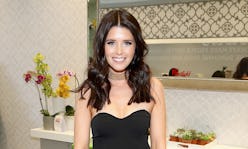 It's official: Hollywood's next it couple is Chris Pratt and Katherine Schwarzenegger. If you're just now familiarizing yourself with the actor's bride-to-be, you'll find that she's not only a political heiress, but a pretty fearless trendsetter, too. Case in point: Katherine Schwarzenegger's raincoat.
A little bit of rain in Los Angeles certainly didn't keep this 29-year-old author inside. She didn't let it cramp her style, either. Schwarzenegger and Pratt, who just announced their engagement earlier in the week, braved the downpour on Weds. with Pratt's 6-year-old son, Jack.
While Pratt kept it low-key in shorts and an American flag-printed hoodie, his fiancée's waterproof parka was everything. Schwarzenegger's color block rainjacket is by Tory Burch's activewear collection, Tory Sport.
The oversized layer is made of performance satin and features a detachable hood that Schwarzenegger wore on her head most of the day and adjustable sleeves that she rolled up. Although the drawstring waist can be cinched for a more polished look, she wore it loose and boxy instead.
Its bold blocked colors are what really make the jacket a statement: bright azure blue against white and forest green. Schwarzenegger paired the parka with simple black pants and the sleekest puddle-proof ankle boots.
It isn't always easy finding a trend-forward raincoat. Schwarzenegger's waterproof layer will enhance — rather than compromise — your perfectly curated looks. It's no surprise that the mastermind behind it is the brand that Mindy Kaling, Emma Roberts, and Jessica Biel can't get enough of.
So, on your next rainy-day outing, ditch the dreary poncho and opt for a fashion-forward rainjacket like Schwarzenegger's instead. The Zoe Report has picked out a few favorites that are sure to keep your outfits happy (and dry), ahead.
Shop Raincoats