Katherine Schwarzenegger Tried Out The PVC Trend With The Perfect Jacket
CPR / BACKGRID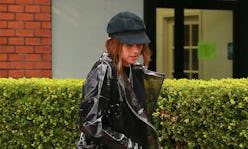 We're less than a month into the new year and the fashion world has already been introduced to a fresh crop of trends. Although animal prints and chunky combat boots have carried over from last season, a handful of new styles are beginning to pop up on of-the-moment celebrities. The latest? Katherine Schwarzenegger's jacket, which is officially the 2019 way to wear PVC.
Let's be honest, the idea of a raincoat doesn't always spark the most high-fashion of thoughts. However, staying dry doesn't have to put a damper on your well-planned ensemble. Take Schwarzenegger's latest look for example, which demonstrated just how easy it is to blend elements of style and practicality.
Schwarzenegger, who recently announced her engagement to Chris Pratt, was photographed braving an unusually rainy Los Angeles day on Jan. 17 wearing a black PVC raincoat. The unique piece featured a belted waist, structured collar, and a mid-length hem. Schwarzenegger kept it cohesive in an all-black outfit, opting for a cozy sweater, ankle boots, and a slouchy beanie.
Over the past week, raincoats have proven to be a core part of Schwarzenegger's winter wardrobe, but she appears to be playing favorites with her PVC pick (and it's easy to see why).
On Jan. 14, the 29-year-old styled the same piece in a completely different way. This time she was photographed in Los Angeles wearing the transparent jacket over another black long sleeve, paired with light-wash denim, similar ankle boots, and a black newsboy-style cap.
While raincoats seem to be a Schwarzenegger favorite, they aren't the only way to incorporate PVC into your closet. Considering the market is currently loaded with PVC offerings, it can be hard to choose from the wide range of jackets, shoes, belts, and bags. That's why The Zoe Report went ahead and rounded up the coolest pieces to buy right now, below.
Shop The Look