Katherine Schwarzenegger Found The Best Hands-Free Accessory For Fall
Jim Spellman/Getty Images Entertainment/Getty Images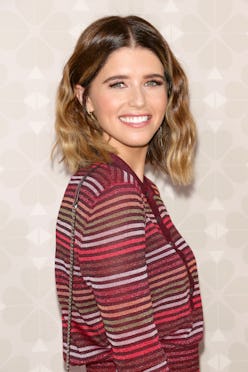 Nothing beats the convenience of a hands-free bag, especially while running errands that require your hands to be, well, free. And Katherine Schwarzenegger's black backpack is perhaps the cutest iteration of the practical accessory to hit the celeb street-style scene in weeks. Crossbody bags allow freedom of movement, too, but there's something about having a carryall slung behind your back that just makes your day-to-day tasks that much easier (and much more comfortable, as well.)
Even though there are lots of new trends popping up this season, there's something about sleek, timeless, and classic pieces that earns special praise. Not only can you wear (or carry) said closet classic for years to come, and as such, it boasts a great cost per wear, but it also pairs well with everything in your wardrobe. That's probably why Schwarzenegger has been carrying a particular black leather backpack with her nonstop this month.
On Sept. 22, the actor was photographed out and about in Los Angeles, alongside husband Chris Pratt and his son, Jack Pratt. A slew of typical Sunday errands were likely on their to-do list, which called for practical, comfy outfits.
In Schwarzenegger's case, said practicality came in the form of a comfy white Henley, light-wash jeans, and a pair of Chanel espadrilles. But the MVP of the entire getup was actually behind her. Yep, that small black backpack the 29-year-old carried around with her earns a spot in your accessory's lineup right away.
The bag in question — a mini black backpack that draws inspiration from the styles you may have hauled around in the '90s — hails from The Wolf Gang. And if said name sounds familiar, it's probably because countless celebs, including Nina Agdal and Lili Reinhart, have shopped the label before, too.
What's so appealing about Schwarzenegger's latest The Wolf Gang find, though, is its functional nature. Everyone's in need of a good bag come fall time, but the actor's is supremely great for tasks that require lots of mobility. Going to an apple field? The 29-year-old's backpack is roomy enough to carry everything you need for the day trip, but it won't get in the way when you're reaching for apples or, say, snapping pictures.
Sadly, Schwarzenegger's exact black backpack is sold out, but The Wolf Gang, plus plenty of other brands, have equally gorgeous and functional finds available right now. Shop The Zoe Report's favorites, below.
Shop The Look