33 Chic But Extremely Comfortable Tops, Bottoms, & Dresses On Amazon
Amazon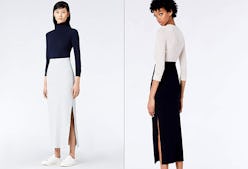 Too often, women are forced to choose between comfort and style. Sometimes, even clothes that appear to be wearable and soft turn out to be scratchy or stiff, which is why doing your online shopping research is so important. Stick with these chic but extremely comfortable tops, bottoms, and dresses featured ahead, however, and you'll never have to choose between looking and feeling good again.
For your most convenient shopping experience ever, all the clothes on this list check a few crucial boxes. First, they're available on Amazon Prime, so you can be wearing them in as little as two days. Second, they're pretty affordable; almost everything costs less than $30, and only one thing costs over $40. Last, each and every piece was chosen with comfort in mind, and have dozens — and in some cases, hundreds and even thousands — of reviews to back up how comfortable they are.
But just because these pieces are affordable and comfortable doesn't mean they skimp on quality, or style. From strappy dresses and flowy skirts to elegant blouses and tailored trousers, these 34 fashionable finds will take you everywhere from the office to cocktails to your best friend's wedding, not just in style, but in comfort, too.
This article was originally published on