You'll Want To Wear Kate Moss' Travel Uniform On Repeat (It's That Good)
Jared Siskin/Getty Images Entertainment/Getty Images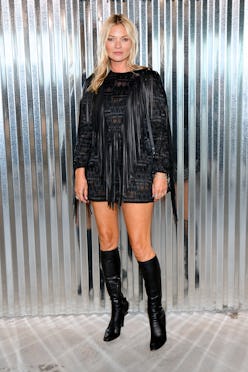 Supermodel Kate Moss has been jet setting across the world for nearly three decades. As such, it should come as no surprise that she's nailed the art of piecing together a chic, albeit practical, airport outfit that's actually super simple to replicate. The next time you want to tackle the TSA fast (but fashionably), look toward Kate Moss' travel style for some much-needed inspiration.
One major way to eliminate any unnecessary pre-vacation stress is to find a go-to airport outfit you can always lean on — especially when you're short on time. Moss, a seasoned globe-trotter who's spent much of her career in-flight, has officially found the travel uniform you'll want to wear on repeat.
On Mon., Moss was photographed arriving at the Incheon International Airport in South Korea wearing a TSA-friendly getup that's equal parts polished, comfortable, and practical. Her easy-to-recreate look consisted of a breezy polka-dot button-down and a pair of black skinny jeans — everyday staples you likely have hanging in your closet, too.
Knowing planes can get quite chilly, Moss didn't get on board without first layering on another essential: a chic gray topcoat. As for her footwear? Though sneakers are the go-to airport shoe for many (case in point: Jennifer Lopez's latest travel look), Moss went for something slightly more trend-forward in the form of black cowboy boots.
The Mon. sighting wasn't the first time Moss stepped into an airport with those exact cowboy boots. In fact, her entire getup looked quite familiar. That's because the supermodel's travel style typically calls on an elegant blouse (or tee), versatile black skinny jeans, a warm longline coat, and a pair of black boots.
Other than being incredibly easy to recreate, the best part about Moss' in-flight uniform is that you can hop straight off the plane and head to your destination — no wardrobe change required. Ahead, shop The Zoe Report's roundup of Moss-inspired travel essentials you'll want to have on hand before you book your next getaway.
Shop The Look