5 Travel Outfit Ideas That Are Equal Parts Comfy And Stylish
Courtesy of Away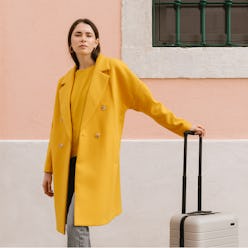 Everyone has a go-to travel ensemble — jeans and a hoodie, a cool jacket and leggings, sweats head to toe. Wherever you're traveling, the outfit you choose is likely dictated by the length of time you'll spend en route — a quick flight for work might warrant "real clothes" while an international red eye certainly calls for loungewear. With holiday jet-setting on fast approach, it's an excuse to level up your comfy travel outfit with some stylish tricks — because let's face it, pajamas err on the side of a-little-too-casual, no matter how fab your accessories are. That's where jet-setting fashion insiders come into play: They're pros at looking stylish in transit whether they're traveling for fashion month or vacationing with family for the holidays.
Leggings + Walking Shoes
For those strictly motivated by comfort, Barneys New York's fashion director Marina Larroudé is all for a mix of comfy-cool pieces like leggings, a hoodie, and flats in transit. "I hate to be anything but comfortable but like to look put-together, so I usually wear a cashmere hoodie and a cool sneaker. There is so much walking around in an airport, that I can't imaging wearing anything but a flat shoe."
Luxe Knits + Fleece
If you're not pro-leggings, then maybe track pants, joggers, cashmere trousers, and street-inspired sweat sets are the stylish alternatives you need. They look cool with a fleece jacket or oversized cardigan or sweater over top, and a hat too. You can even rock a jumpsuit in a luxe material for comfort and warmth. Sneakers or slip-on sandals with socks are fail-safe for flying through security.
Blazer + Jeans + Flats
For those inclined to polish up for the airport, Elizabeth von der Goltz, global buying director at Net-A-Porter recommends classic pieces that still feel comfortable. "While I usually base my travel outfit on my destination, I am old fashioned and like to look 'smart' while flying," says von der Goltz , noting her default look as a blazer and simple white button-down shirt paired back to denim and easy booties or slingback flats. Of course, jeans will feel entirely too restricting for some, especially on a long-haul flight. In this case, look to stretch denim as a compromise — the stretchiest of pairs are just as comfortable as leggings or loungewear.
Blazer + Shawl + Boots
To ward off overactive A/C on planes and trains, the buying director is for cozy accessories to keep warm and elevate the effect of any travel outfit. "When traveling I tend to layer as much as possible. I always pack a cashmere shawl and a sweater in my carry-on," she says.
Sweater + Sweats + Comfy Shoes
She's also firmly against one particular item on travel days. "I will never travel in high heels," von der Goltz says. "Some airports are massive, and I often spend a lot of time on my feet and walking. Comfort is key for travel days."
Whether you're jetting to a far-flung location or road tripping it home for the holidays, these tips will ensure you're stylish en route.