Kate Middleton Loves This Dress So Much, She's Worn It Since 2012
WPA Pool/Getty Images Entertainment/Getty Images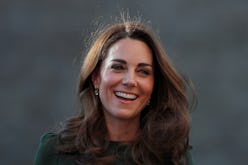 Scotland is historically known for that rich woven pattern that has come to symbolize wintertime: tartan. The Duchess of Cambridge certainly couldn't pass up the opportunity to wear her all-time favorite coat in the symbolic Scottish print when she and Prince William arrived in Dundee on Tues. Although it definitely isn't new, Kate Middleton's tartan coat dress has been a staple in her cold-weather wardrobe for years.
The royal couple hopped up to the UK's northernmost country on Tues. to help open Scotland's first design museum, the Victoria & Albert Museum in Dundee. With the 37-year-old being a former art history student herself, she is a patron of the V & A (as it's called) and delivered a speech for the momentous event. And she, of course, looked exceptionally stylish while doing it, too.
The duchess decided against buying a new outfit for the occasion, presumably figuring there must be something already hanging in that invaluable closet of hers in Kensington Palace. The green-and-blue Alexander McQueen coat dress she acquired in 2012 was a no-brainer.
Remember that iconic photo of Middleton, one year into her duchess-hood, running after a hockey ball in a plaid, pleated coat and heeled boots, her mahogany curls blowing in the wind? That was the first time Middleton debuted the McQueen coat that she's been wearing for nearly a decade now.
Seven years and three children later, Middleton almost looks the same in the trusty coat dress, wearing it with a similar black tights-and-heels combo and hair down in her signature loose curls. In her gloved hand, she carried a forest-green micro bag by Manu Atelier.
Her impeccably curated wintery look is evidence that a plaid layer like the duchess' is the key to adding oomph to your coat closet (whether you, too, are headed to the official land of tartan or not). Cop her style with The Zoe Report's favorite tartan coats, ahead.
Shop The Look