Kate Middleton Has Officially Returned From Maternity Leave — Here's Where You'll See Her Next
Clive Mason/Getty Images Entertainment/Getty Images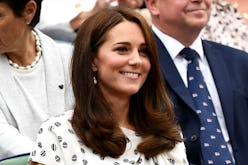 She's the Duchess of Cambridge, a fashion icon, and has had three children within a span of five years. Frankly, it's exhausting just thinking about her day-to-day schedule. And although there's a good chance you didn't even notice she took a break from her royal obligations in recent weeks, Kate Middleton's maternity leave has officially ended after a quiet five months at home with Prince Louis.
On Wed., Kensington Palace announced on Twitter that Middleton will be ending her maternity leave and making her first royal appearance early next week.
Middleton is scheduled to visit the Sayers Croft Trust Forest School and Wildlife Garden at Paddington Recreation Ground on Oct. 2. According to their website, Sayers Croft Trust is a charity organization focused on "involving the local community, especially young people, in the enjoyment and care of the environment." The organization aims to include all people in its efforts, regardless of "physical, financial or social disadvantage."
Like Meghan Markle's first solo event as the Duchess of Sussex on Tues., Middleton will make her appearance alone (a task she's been handed many times since joining the royal family in 2011). Suffice it to say, the fashion predictions have already commenced.
Middleton took some much-needed time off from her royal engagements after having her third child, Louis, in Apr. Of the very few public appearances she's made since going on leave, included Louis' christening in London over the summer. The religious ceremony, which took place in the Chapel Royal at St James's Palace in July, was filled with royal guests, including the Duke and Duchess of Sussex, Prince Harry and Markle. Middleton wore a puffy-sleeve white dress by Alexander McQueen (one of her go-to labels) paired with a woven, floral headband and pearl earrings.
While it was assumed that Middleton would return to maternity leave following Louis' ceremony, she made an unexpected appearance at the 100th Anniversary celebration of the Royal Air Force, which she attended alongside Prince William, Prince Harry, and Markle. Middleton once again wore an Alexander McQueen dress (this time, with a collar), nude pumps, and a matching fascinator.
While The Duchess of Cambridge has surely been missed in the royal realm, a new member of the royal family has undoubtedly picked up some slack for her sister-in-law during her time off. Markle hasn't shied away from the spotlight since marrying Prince Harry. From the internationally televised royal wedding, to her first appearance with the Queen of England, and even embarking on her inaugural charity venture, Markle seems to be adjusting to her new life's engagements quite well.
Middleton and Markle are vastly different — especially when it comes to their closets. Middleton tends to stick to traditional styles, continually wearing designers like Alexander McQueen, while Markle has been known for pushing the boundaries of royal protocol with looks like pantsuits, blazer dresses, and affordable pieces from brands like J.Crew and Mother Denim.
Now that Middleton is officially back in the game, there's a good chance we'll get another glimpse of her and Markle together (remember their sweet outing to Wimbledon in July?).