Kate Middleton's Go-To Sneakers Are On Sale
Chris Jackson/Chris Jackson Collection/Getty Images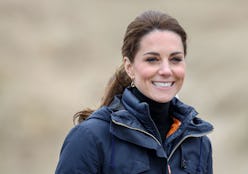 Anyone who follows the duchess' style like it's a religion of its own knows that Kate Middleton's white Superga sneakers are a longtime staple in her wardrobe. The royal certainly hasn't lost any affection for them over the years because she just recently wore them again to the Chelsea Flower Show. You'll be living in her go-to shoes this spring, too, because they're currently on sale.
If Her Royal Highness has one thing in common with Emma Watson, Sienna Miller, and Lily Collins (besides being British, of course), it's the Cotu Classic sneaker by Superga. Middleton has been sporting the Italian brand's original shoe at least since 2017 and she shows no sign of retiring them anytime soon.
She's worn them with athletic leggings to cheer on the London Marathoners, with a striped Hugo Boss tee and black jeans during a visit to Heidelberg, Germany, and most recently, she paired them with the cutest khaki culottes and an eyelet top for the Chelsea Flower Show in London.
If she didn't have the royal dress code to abide by, she might even be styling them with floral minidresses and fashion-forward bike shorts. But, hey, just because she isn't doesn't mean you shouldn't.
The duchess' favorite sneakers are one of the more budget-friendly pieces in her closet anyway, but now that one version of them is 15 percent off, they're even more affordable than before. In the world of ever-changing chunky white sneakers (neon paneling, pom poms, and everything else), Middleton's trainer of choice is a refreshing example of simplicity.
You can count on these canvas classics to never go out of style. With an off-white version of Middleton's footwear now on sale for $55, you'll want to sport them everywhere. Wear them on the way to yoga class or to brunch with a floral slip dress. They're just about versatile enough to pair with anything.
Add Middleton's sneakers to your rotation while they're on sale. Hers and similar pairs under $100, ahead.
Shop The Look