These $90 Sneakers Just Got Kate Middleton's Royal Stamp Of Approval
Tim P. Whitby/Getty Images Entertainment/Getty Images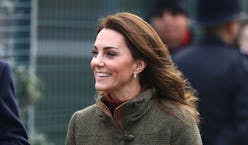 The last time you saw Kate Middleton playing sports, she was swinging a tennis racket in a pair of heeled ankle boots. Thankfully, she changed into the proper footwear for her latest appearance on the soccer field. Kate Middleton's blue sneakers were the best part of her sporty look.
The duchess and Prince William arrived in Northern Ireland on Weds. for a surprise visit to "celebrate the young people" of the region, a press release by Kensington Palace said. After accepting bouquets of flowers from the adoring crowd that gathered to greet the couple in Belfast, Middleton swapped her sleek red coat dress for gym clothes.
Now, it isn't all that rare to see the royal playing sports — the world has watched the brave duchess draw a bow at an archery range, try her hand at cricket in Mumbai, ski in the Swiss Alps, and abseil down a rock cliff without a glimmer of fear in her eye. What is rare, however, is seeing Middleton in athletic clothes.
The mom of three has been known to wear a coat dress and heels while playing field hockey, but not this time. The duchess broke out a pair of actual trainers for Weds.'s soccer practice.
Surrounded by jersey-clad kids, Middleton had a rare sneaker moment at Windsor Park Football Stadium. She sported basic black skinny jeans and a preppy cable-knit sweater under her navy-blue Barbour zip-up jacket. The duchess topped off her look with a pair of low-key tennis shoes that are surprisingly affordable.
Her New Balance sneaks are super lightweight with a chunky white heel designed for running after soccer balls (or whatever your preferred workout is). They come in light pink and silver, too, but Middleton opted for blue. And lucky for you, they're less than $100.
Steal the duchess' look with some fashionable sneakers of your own. You know your gym shoes could use a major upgrade, so find yourself a refreshing replacement, ahead.
Shop The Look