The Most Stylish Moments From Wimbledon 2018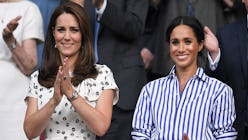 While the World Cup may have been the bigger sporting event of the season—since it only occurs every four years—it's not exactly known for its style-centric moments (unless you count soccer fans with their nations' colors painted on their faces). For a more fashion-forward sporting event, we turn to the annual Wimbledon tennis tournament every year. The iconic extravaganza, which has been held in Wimbledon, London since 1877, is an absolute must-see, attracting an avid fanbase from around the globe. Attendees of the event range from bloggers and A-list celebrities to royals and dignitaries.
This year's tournament (which ended yesterday) was something to talk about: If you tuned in, you probably shared in the disappointment of Serena Williams' loss, but welled up with pride over her concession speech. However, if you aren't well-versed in tennis and were just looking for some fashion inspiration, Wimbledon was still your perfect summer cup of tea. There were some seriously stylish moments served by a few of our favorite A-listers. First and foremost, we should mention newlywed Meghan Markle brought the class with her Ralph Lauren pant ensemble. Right along side her was sister-in-law Kate Middleton, who surprised no one in her elegant yet classic outfits—her two summer dresses read both tasteful and trend-setting, which is exactly what we look for in summer wedding attire. While we're on the subject of frocks, can we discuss Emma Watson's vintage Ralph Lauren dress? Talk about a winner. In addition to the royals, a plethora of other head-turning moments occurred from starlets like Thandie Newton and Olivia Munn. We literally can't keep up with it all.
Wanna witness some Wimbledon magic for yourself? Here, view other celebrities who attended the tennis tournament and have inspired us to amp up our summer wardrobes.
Meghan Markle
A simple look done right. Meghan Markle looked stunning while pairing white slacks with a blue-and-white striped collared shirt (all by her fave designer of the moment, Ralph Lauren).
Kate Middleton
Kate proved that yellow is the perfect summer color for all occasions—including sporting events.
Kate Middleton
Black and white, but very far from boring. Here we see Kate again, wearing a whimsical polka-dot dress accompanied by an elegant blush bag.
Pippa Middleton
Not to be outdone by her sister, Pippa showed us that white lace is always a yes. We love her feminine white outfit with a little hint of blue.
Pippa Middleton
For another match, Pippa went more structured with a casual shirt dress and a pair of comfortable espadrilles. This look can be dressed up as is for a fun summer night on the town or dressed down with simple sandals or sneakers for a picnic or beach day.
Pippa Middleton
Three time's the charm. We love a long printed dress for summer and, luckily, it also makes an ideal transition piece for fall.
Thandie Newton
We are all about Thandie's floral-and-stripes outfit combo. Mixing patterns is always a bold and stylish way to go.
Emma Watson
It appears Emma has officially outgrown her Hogwarts uniform. She pulls off this beige shirt dress flawlessly, accessorizing it ever so chicly with a leather belt and hat.
Anna Wintour
Same but different. Anna is rarely seen without her signature black shades and bold printed dress, and we wouldn't want it any other way.
Olivia Munn
Now, this is a look you can totally emulate all summer long. Olivia delivers '70s chic with a tied striped shirt and flared denim pants.