Kaja Just Added New Shades To Its Eyeshadow Trios & You'll Want To Try Them All
Sephora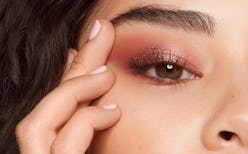 There is a reason why Kaja's Beauty Bento Eyeshadow Trios have such a high rating at Sephora. They're compact, budget friendly, and easy — each $21 set comes with three curated, complementary eyeshadow shades. The colors are cult famous for packing in the shimmer, too; just take a look at Sephora's review section to see swatch after swatch of the glitzy, high-shine formula. Basically, the shades are like highlighter for your eyelids.
Which, OK, may not be a look you reach for before heading to the office. So, starting May 28, Kaja made its must-have product way more versatile: The K-beauty brand added four all-new color options, which now include both the signature Kaja shimmer finish and a never-before-seen matte formula. It's the best of both worlds.
In fact, each new eyeshadow trio strikes a delicate balance between party-ready glitter and everyday matte. Available on Sephora's website, the sets feature two matte shades and one bouncy, sparkly shimmer apiece (for when the mood strikes you). The new colors promise to be as cult status-worthy as the original sparkle shades, too; Kaja used the same "Glitter Arrangement Technology", which means beauty fans can still create a seamless, uniform look just by swiping on the eyeshadows with their fingertips.
Wondering which Beauty Bento eyeshadow you're going to add to your collection? Start by figuring out which color of eyeshadow you use the most. Kaja's Beauty Bento eyeshadows spotlight a single color, then include three shades of it — from light, medium, to dark. Snag the "Chocolate Dahlia" or "Glowing Guava" if you prefer more neutral or natural looks; as its name implies, "Chocolate Dahlia" offers cocoa-colored shades, while "Glowing Guava" pulls more warm (with a pretty rose gold shimmer to match).
Grab the two other new shades if you're set on creating colorful looks this summer. Although both feature shades of pink, the color stories are very different: "Hella Azalea" is deep, dreamy, and purple heavy, and "Poppy Champagne" is more on the coral side.
Regardless of which color you pick, you'll still get all the perks of the Beauty Bento collection — namely being able to throw the product in your purse, then use your fingertip throughout the day to touch up any smudges. Ahead, all four new Kaja Beauty Bento Eyeshadow Trios.