Kaia Gerber Just Confirmed That The Cardigan Is Fall's Must-Have Piece
Fernanda Calfat/Getty Images Entertainment/Getty Images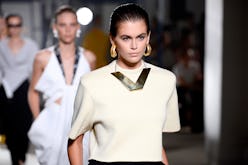 The third leg of the four-week long sartorial extravaganza that is fashion month is officially underway. Models, industry professionals, and street-style stars have all jet-set to Milan to take in the new Spring/Summer 2020 runway trends, while the style-obsessed have been keeping a close eye on the outfits that debut on the fashion capital's sidewalks. Enter, Kaia Gerber's purple cardigan ensemble, which introduces one of fall 2019's most covetable wardrobe staples — and might just be one of the best off-duty looks of fashion month thus far.
Sure, Gerber has worn some high-octane looks in her time, especially when she's strutting the catwalk for designers like Marc Jacobs, Michael Kors, and Versace, but when she's casually trekking around the city or, say, en route to a fashion show in Milan, her getups tend to fall into the more casual-cool category. Think: lots of chic denim outfits, effortless wrap dresses, and fresh accessories that certainly don't go unnoticed.
With that, it's time to draw your attention to Gerber's latest off-duty look, which debuted on Sept. 18 during Milan Fashion Week and hits all of her usual style marks. Causal-cool? Yes. Top-notch accoutrements? You bet. Utterly amazing? No doubt about that.
As per usual, the 18-year-old runway superstar built the look around her favorite medium-wash, vintage-inspired jeans. On the bottom, navy-blue Converse infused the getup with a dose of retro edge, while up top, a purple knit cardigan by Danielle Guizio upped the overall coziness factor. A patterned neck scarf, a bright-red bag, and yellow-tinted sunglasses topped off everything with ease.
While there are quite a few styling lessons to take away from Gerber's recent outfit — is anyone else inspired to raid their mom's closet for a cute neck scarf? — the one that simply can't be beat is the idea of wearing a cardigan as a shirt (aka, fall 2019's biggest sweater trend, if the street-style sightings are any indication, that is).
With autumn's official arrival just around the corner, it's time to freshen up your closet with a few cold-weather essentials — and a cardigan like Gerber's should be the first thing you check off your autumn shopping list.
So, stay cozy and look cute by scooping up one (or all) of The Zoe Report's favorite cardigans, below.
Shop The Look