Kaia Gerber's Favorite Mini Bag Is 50 Percent Off — Here's Where To Get It Before It's Gone
Peter White/Getty Images Entertainment/Getty Images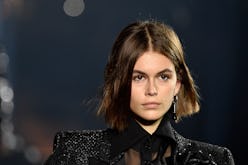 Every time Kaia Gerber steps out sporting a popular trend, it seems as though it goes from a simple, It-girl approved piece to a must-have item. In short, whatever the 18-year-old model wears she amplifies the trend through a megaphone. The latest fashion movement she's supporting? Mini bags. And lucky for you, Kaia Gerber's mini bag is on sale right now — and you know it won't be in stock much longer.
Of all the unique and unexpected trends to take the fashion world by storm in the past year or two, perhaps mini bags were the biggest surprise. While some styles like the micro-mini bags are purely for aesthetic purposes, others are large enough to hold a (literal) handful of necessities like your keys, phone, and wallet — hitting that just right sensation of an ideal purse size for a night out. And while the definition of "mini" is often within the beholder, there's no doubt that the size Kaia Gerber chose hits the perfect chord between cute and functional.
Gerber was spotted on a night out with Saturday Night Live star Pete Davidson on the streets of Miami on Nov. 23, after attending a wedding for one of her friends. The young model wore a Sigmund Dress from Reformation, along with a pair of black strappy Nanine Sandals from Rebecca Minkoff. Gerber's wedding ensemble was undeniably stunning. However, it was her orange Prima Short Small Leather Tote by Medea Sisters that pulled the look together for the night.
If you're on the hunt for a chic and simple mini to go with your wardrobe, any one of Medea's stylish totes will make for the perfect addition. The Italian brand put itself on the map of the fashion realm with its playful leather bags, which are inspired by classic shopping bags and come in a range of neutral and vibrant hues.
For anyone who loves the specific style Gerber has been seen wearing (the model was also spotted wearing it in a neon green shade), Medea's Prime Short Small Leather Tote in black and camel are on sale at Net-A-Porter for $220, which is 50 percent off from its original price. If you want a beige or white shade, you can get it at 40 percent off for $285.
If you're ready to start wearing the sleek, model-approved It bag, scroll down to shop the Prima Short Small Leather Tote below.