J.Lo Can't Stop Wearing These Throwback Boots
Cindy Ord/Getty Images Entertainment/Getty Images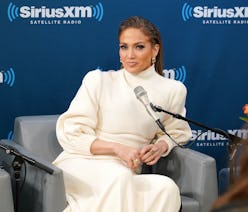 After all these years, J. Lo is still a Bronx girl at heart. She might have the Malibu beach house of her dreams and be rolling with a glam squad a dozen deep nowadays, but there's something about her aesthetic that makes the singer look so grounded. It could (quite literally) be those Timberland boots Jennifer Lopez wears constantly.
It's officially been 20 years since the singer released her first single, "If You Had My Love," and her career is still going strong. Her It's My Party tour has just begun and to commemorate, Lopez posted a few Instagram photos posing in front of a nostalgic timeline of her successes after the show.
Sporting a monogrammed tracksuit and huge hoop earrings, the 49-year-old is obviously the same "Jenny From The Block" she's always been. The singer even wore her favorite footwear, a modern version of the ones you used to see her wearing on TRL.
Lopez has been a fan of Timberland boots for a long time. Her go-to shoes have seemed to evolve right along with her style. These days, instead of the lace-up heels she wore in her 20s, she opts for the brand's latest chunky velour version, a collab with Off-White.
J. Lo has been living in these boots, from the Spring/Summer 2018 collection for more than a year now, initially debuting them last May with Givenchy's black Love Sweater and monochromatic jeans. She then sported them with printed leggings and a cropped hoodie in Dec.
Khloé Kardashian, Hailey Baldwin, Gigi Hadid, and Cara Delevingne are all equally obsessed with the boot collab. Beyoncé loves them so much, in fact, that she featured them in her music video for "Feeling Myself."
So, you see, these Timberland x Off-White lace-ups have gotten the stamp of approval from all your favorite fashion girls. Perhaps it's time for you to add them to your collection once and for all.
Shop The Look