Olivia Culpo Added The Perfect Hiking Boots To Her Street-Style Lineup
Chelsea Lauren/WWD/Shutterstock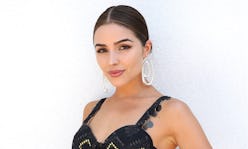 You'd better start making room on your shoe rack for the it-boots of the season. The footwear you never thought would be fashionable has been sneaking into street style slowly and subtly throughout the latest Fashion Weeks. Olivia Culpo's white hiking boots are going to redefine the utility trend in 2019.
Combat boots, cowboy boots, and sock boots have all had their moments in the spotlight over the past year. Now, believe it or not, it's the hiking boot's time to shine. That's right, these chunky leather lace-ups aren't just for walking on trails anymore.
Mon. marked the first day of Paris Fashion Week and the model was spotted on the streets of France wearing your average white tee and jeans with the boldest boot imaginable. Culpo sported a pair of white hiking boots by Proenza Schouler that featured contrasting black panels and neon-yellow laces.
The utilitarian-style shoes are designed with that chunky rubber sole typical of the traditional hiking boot and they hit just above the ankle, beckoning Culpo to cuff her straight-leg jeans. She wore a classic long beige coat for warmth and threw a Fendi belt bag over her shoulder, making for one of her most casual Fashion Week looks yet.
The utility trend has been in full swing for a while now — bringing forth everything from denim jumpsuits to the resurrection of '90s-style Dickies work pants — and now the motif is finally manifesting in footwear.
Hiking boots are the latest version of the trend-forward combat boots that have been dominating the scene lately. They first started cropping up on all your favorite fashion girls' Instagrams back in Dec., then were quick to hit the realm of celebrity (Kendall Jenner, Hailey Baldwin, and more). Even Kate Middleton was spotted in a pair by Chloé only a month ago.
Clearly, this footwear trend isn't going anywhere. Get on board with these fashionable hiking boots, ahead.
Shop Hiking Boots