J.Hannah Created A Statement Jewelry Collection With Minimalists In Mind
Courtesy of J.Hannah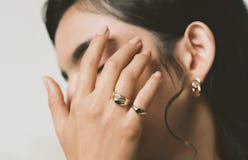 Elegant. Timeless. Sleek. Those are all words you could use to describe any one of jewelry designer Jess Hannah's pieces for her eponymous (and wildly popular) brand J.Hannah. But J.Hannah's DUET collection is next level, even for the maestro of signet rings and bezel setting herself. Expanding on classic shapes used in previous jewelry releases, the DUET collection asks one question: What happens when you double up on minimalist jewelry designs?
As the name implies, the DUET collection's pieces conjure up images of duality, doubling shapes and stones throughout. The signature J.Hannah signet ring is made over into the rippling Duet Signet ring and the Duo Face Signet, a flowing ring that looks like two signets merging into one. Two earring hoops interlock together to create one cohesive piece; fans of J.Hannah's Glacé collection will see echoes of the recently-released pieces when looking at the Duet Earrings in quartz.
"I'm always inspired by vintage pieces and strive to create modern heirlooms," Jess Hannah tells The Zoe Report over email. "Our newest DUET Collection explores an abstract study in duos, pairings, and mirrored form, which ground our new edit of classic rings and earrings. It further explores the possibilities of shape and proportion."
Like any other J.Hannah collection, you can pick your price point. The pieces are available in more affordable silver, and pricier options like 14k yellow gold. There are pieces that work if you're on a budget; the Duet Signet ring in silver will only cost you $285, with the brand noting online that the price includes single letter engraving.
Or you can go all out with the Duo Face rosecut diamond ring — a stunning, sculptural $3,800 ring that seemingly joins two rings together, like the plain Duo Face Signet. While one of the minimalist diamond rings would be eye-catching on its own (just take a look at J.Hannah's Demi Signet diamond ring), the DUET collection boldly amplifies the sleek diamond ring shape.
Even the DUET collection's cocktail rings are minimalist, yet subtly doubled. You have your pick between the Duet Cocktail Ring with Peach Moonstone, a warm, orangey centerpiece, or Aquamarine, a cooler, more opaque version. Similar to the Duet Signet, the Duet Cocktail Rings seem to ripple from the center outwards, framing the bezel-set stones.
The entire DUET collection is available on J.Hannah's website, though a few stand-out pieces are listed below. So just keep scrolling down to find your new, perfectly understated statement piece.