Jessica Biel Is Still Wearing Her Leopard Midi Skirt And You Should Be, Too
Christopher Polk/Getty Images Entertainment/Getty Images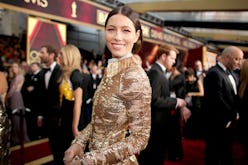 You can take the girl out of New York, but you can't take the New York out of the girl. Jessica Biel just wore the leopard midi skirt you already have hanging in your closet with an oversized tee while out in Los Angeles and it was the epitome of NYC casual. Prepare to be taken back to the summer of 2018 when you see her latest off-duty look.
Remember those animal-print slip skirts every girl was wearing a year ago? According to this actor, they're still cool. The it-skirt of 2018 has been cropping up again lately, so much, in fact, that someone has dedicated an entire Instagram account solely to New York girls wearing leopard midi skirts (aptly named @leopardmidi skirt, if you're looking for outfit inspiration).
You likely already have this ultimate cool-girl essential tucked away somewhere from last summer — perhaps that silky version that Realisation Par literally couldn't keep in stock? — but before you delegate it to the "yesterday" pile, take a look at Biel's outfit.
On Mon., the actor went out in LA wearing one of these spotted skirts, her version slightly pleated around the waistline and with a subtle leg slit, with a boxy cropped black t-shirt whose sleeves were attached by safety pins.
She paired the outfit with camel leather strappy sandals because she just couldn't resist adding a touch of Southern California and a big, trend-forward berry-colored circle bag strapped around her shoulder. Topping things off, literally, were her wear-with-everything Firenze aviator sunnies by Gigi Barcelona (she's been seen everywhere with them!).
You know by now that this summer must-have will pair well with just about anything. Your favorite fashion girls have worn it with chunky sneakers, combat boots, strappy heals, and everything in-between. Biel's recent rendition shows that all you really need to turn your leopard-print skirt into a bonafide weekend look is a plain old black tee.
Don't have one yet? Join the party with a few of The Zoe Report's favorite versions, ahead.
Shop The Look