2019's Version Of The Animal-Print Slip Skirt Is Here, Thanks To GANNI
COURTESY OF GANNI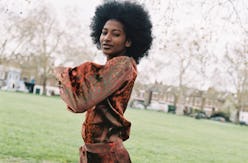 If you thought leopard was slowing down to make way for the rest of the animal kingdom for spring, think again. While there's no denying you'll be seeing your fair share of tiger and zebra stripes, those jungle cat spots you've been sporting are still going strong, and that's just been made even more evident by GANNI's Love For Leopard collection. Now, before you think "been there, done that," the fashion-girl favorite brand is putting a very colorful, fresh spin on the typically neutral print to give it new life for this season.
GANNI has acquired a legion of loyal fashion fans across the world who adore the brand's use of color and print on easy-to-wear silhouettes. That said, its latest collection continues to check all boxes with its selection of effortless tops, bottoms, and dresses featuring the on-trend leopard in several different eye-catching color combos. And given GANNI's popularity among the style set, it won't take long for these photo-worthy pieces to start making waves on social media.
One piece in particular that'll undoubtedly be popping up on Instagram in no time is a pleated satin maxi skirt. Priced at $350, the style brings the slip skirt silhouette to an ankle-grazing length to create a streamlined, versatile shape that can easily be dressed up or down. Shades of deep red, orange, and green give the skirt a tropical vibe that'll allow it to transition seamlessly into summer when you can pair it with a barely there sandal and camisole for dinner al fresco.
If you're eager to show off a little more leg, opt for a pastel lavender and yellow mini skirt for $160, or pick up a playful pair of shorts in shades of blue for a laidback look. Really lean into the print by pairing the shorts with the scallop-detailed, button-down top to create a matching set. Consider rolling the sleeves up on the blouse and knotting the bottom for a casual, summer-ready outfit.
As for dresses? There are several styles to select from that are ideal for the transitional weather you're probably battling right now. Case in point: The Printed Cotton Poplin Mini Dress for $270, which can be styled over trousers and jeans now and worn solo with a set of clogs when the temperature stars to heat up.
Continue on to shop nine styles from GANNI's new collection and head over to the site to view the rest.