Jessica Alba Just Debuted Your New Go-To Work Outfit Formula
Emma McIntyre/Getty Images Entertainment/Getty Images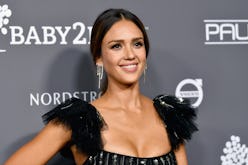 When you spend most of your waking hours at the office, it's hard to keep churning out creative work outfits day after day. Not for Jessica Alba, apparently, whose dress shirt and slip skirt combo is about to become your go-to formula for the rest of the week. Seriously, say hello to your new secret recipe.
If ever you find yourself lacking inspiration in the workwear department, look no further than this entrepreneur's lineup. Alba is a bonafide boss lady at her very own corporation, The Honest Company, and she's not afraid to dress like it, either.
Anytime you catch her coming or going from her Santa Monica office, you can bet she's wearing something chic, trendy, and Southern-California casual all wrapped up in a sauce of smart sophistication that only a stylish businesswoman could conjure up. If you're not bringing her aesthetic to your Tues. morning meetings, then you're just doing it wrong.
Her latest is a white tank tucked into a burgundy slip skirt, which seems entirely average until you get to the part where she paired a blue pinstripe dress shirt over it. She could have opted for a jacket or a blazer, but Alba went unconventional with a summery button-down instead.
She left her striped top unbuttoned and rolled up the sleeves for a flowy, carefree look. The blue and white stripes were an interesting color match for her wine-colored silk-satin midi skirt — a delicate little number by Olivia von Halle — but, somehow, they complemented each other surprisingly well.
The fashionable mom of three topped her look off with those white slip-on mules she wears constantly and a black croc-effect bag.
So, there you have it: your new favorite work outfit. This unexpected combination is just waiting to be introduced to your office wardrobe. A few similar pairings to get your inspiration flowing, ahead.
Shop The Look